Kogi State Governor, Alh. Yahaya Bello has hailed the renewed interest of the United States in the greatness of Nigeria, saying Nigeria's economic renaissance is key to African prosperity.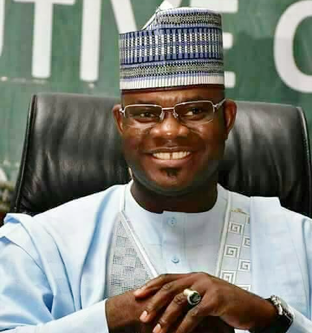 Governor Bello made this known through a message a statement by his Director General of Media and Publicity, Kingsley Fanwo. He said the current working visit of President Buhari to the US will "unlock massive opportunities between the two giants".
"Nigeria is the hope of Africa with her market, human and mineral resources. A super power like the United States will no doubt find in Nigeria, a viable partner to deepen Africa's prosperity through technology and agriculture.
"For a long time, US has been pessimistic about Nigeria. Corruption has been one of the biggest barriers between the two nations. But with President Muhammadu Buhari at the helms of affairs of Africa's biggest nation, America is beginning to see a partner in anti-corruption and fight against poverty".
Bello said Nigeria will reap massively from the "historic visit" of President Buhari, saying Kogi State is prepared to play host to some of the biggest players in the agricultural world.
His words: "It is interesting to note that Agriculture is one of the focal points of the President's visit to the states. Kogi is a leading agricultural destination in Nigeria and our people are looking forward to the benefits of the visit as it concerns ensuring food security in Nigeria.
"Kogi is the mineral capital of Nigeria with many mineral resources. But we see Agriculture as the future of the state. Kogi will be prepared to play host to some of the biggest players in the Agric world to make the nation self-sufficient in food production".
The Governor also urged the United States to help Nigeria in the fight against terror, saying Nigeria is committed to ensuring "global peace and security".
Gov Bello to Kogi Workers: Thanks for accepting our reforms
……..promises better days ahead for workers
Governor Yahaya Bello of Kogi State has saluted the civil servants in the state for their "sacrificial understanding of the unwavering commitment of his administration to civil service reforms", saying their "patriotic sacrifices is beginning to yield fruits".
The Governor who stated this in a statement released through his Director General of Media and Publicity, Kingsley Fanwo said his administration "perfectly understands the place of labour in deepening democracy and development" and shall continue to "partner with labour to make Kogi State more prosperous and more generous to the destinies of future generations".
Bello implored workers to continue to cooperate with his administration in its "avowed drive to make the state a better place for all".
"The labour movement around the world has been an assured partner against corruption and human rights abuse. It is therefore understandable that labour keyed into our civil service reforms to rid the service of unintended beneficiaries who had deprived genuine workers of their rights to regular wages and salaries.
"I have tremendous respect for labour because they are not only the most important contributor to our development agenda, but they are veritable partners in promoting excellence in governance. Good governance is enhanced and catalyzed by a well motivated labour.
"It is our hope that labour will continue to support our agenda of ensuring discipline and productivity in government work places to serve our people well and create wealth for our dear State".
Governor Bello also assured labour of "pragmatic, beneficial programs that will rebound the morale of labour", saying his administration will continue to "prioritize payment of salaries to boost the morale of workers and their confidence in the administration".
He urged labour to continue to support the New Direction Agenda of Government in order to build a "virile, strong and better Kogi State".
"The Kogi I am striving to build cannot be achieved without your unalloyed support and commitment to duty. I therefore urge all the Kogi workers to continue to support our administration", he said.
The Governor said despite the drastic drop in revenue allocation to the State and the competing needs of the state, his administration has continued to its best in payment of salaries and pensions, assuring that he will continue to support the labour movement to play its role in helping his administration become the best ever in the history of the state.
Subscribe for latest Videos