The nation's premier steel company, Ajaokuta Steel Company, may face a dearth of qualified manpower to run it as many of its pioneer staff are due to retire soon without passing their knowledge to younger ones.
Mr Chuks Ibe, one of such engineers raise the alarm in an interview with  Newsmen  in Ajaokuta, Kogi.
Ibe, an engineer and Manager of Machines and Tools Workshop, said many of the pioneer staff who were trained at the take-off of the company were now retiring with few staff to take over from them.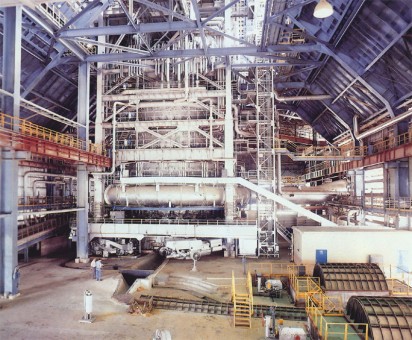 Ibe, who said he was trained in Germany, Austria, and Switzerland, said he was pained to see that there was nobody he could pass the knowledge and experience garnered over the years.
"I am not happy that am about to retire from the company without transferring the knowledge that I have acquired over the years to new staff.
"A lot of personnel were trained overseas and we are about to retire from service and new staff are not being employed.
"This may cause some problems for the company as it may be faced with the problem of getting experts to man machines when it fully becomes operational.
"There is the need for the Federal Government to employ new staff quickly so that we can transfer our knowledge to them,'' he said.
NAN gathered that the last time there was new recruitment was in  2013.
Mr Yakubu Badams, the Head Public Affairs and Information of the company told NAN that the 2013 recruitment did not cover all departments and units.
NAN reports that the Machines and Tools Workshop is one of the five completed workshops in the Steel Plant.
The rest are: Forge and Fabrication Shop, Foundry and Pattern Shop, Power Equipment Shop, and Rubberising and Vulcanisation Shop.
They were constructed to produce spare parts for the machines in the plant, but because the company had not taken off fully and the engineers manning the workshops are underutilised, they take outside jobs.
According to Ibe, the workshop fabricates spare parts for companies such as BUA Cement, Dangote Cement Company, Julius Berger Plc, and the Nigerian National Petroleum Company (NNPC).
The engineer said there were more than 200 different machines in the Tools and Machines Workshop, adding that it could repair or fabricate any damaged machine component.
Ibe said the workshop used mild steel, medium carbon steel, copper brass, cast iron and soda, among others, in its work.
He said the workshop comprised a Heavy Machinery Section, Light Machinery Section and Heat Treatment Section.
Ajaokuta Steel Plant is sited on 24,000 hectares of land in Ajaokuta, Kogi State, about 38kms from Lokoja, the state capital.
The Plant was conceived and steadily developed with the vision of erecting a Metallurgical Process Plant/Engineering Complex with other auxiliaries and facilities.
The Ajaokuta Steel Company is meant to generate important upstream and downstream industrial and economic activities that are critical to the diversification of Nigeria's economy into an industrial one.
The Plant tagged as "Bedrock of Nigeria's Industrialisation'' is also designed to produce Iron and Liquid Steel from Iron Ore Mines at Itakpe, also in Kogi, about 52kms from Ajaokuta.