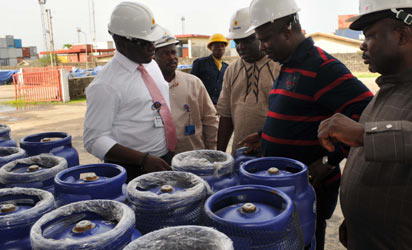 Yomi Awobokun ( L) , CEO, Oando Marketing PLC providing product information on the 3kg OGAS cylinder, a plug and play cooking gas stove aimed at switching low income households from dirty fuels, to the Senator Magnus Abe ( M) led Joint Committee on Petroleum Resources (Downstream), Finance and Appropriation during a facility tour of the Oando Marketing Terminal in Apapa, Lagos.
Lagos – Oando Plc and seven other companies outperformed stocks on the Nigerian Stock Exchange (NSE) in April to emerge as top performing equities in percentage terms.
Oando emerged as the best performing equity with a growth of 52.75 per cent to close at N9.15 per share as against N5.99 in March.

Market analysts attributed the growth posted by Oando to the recent lifting of the technical suspension on its shares, improved 2017 full year and first quarter earnings report despite non-declaration of dividend in 2017.
Malam Garba Kurfi, the Managing Director, APT Securities and Funds Ltd, told NAN that the gain was as a result of the long technical suspension placed on the stock of the company.
Kurfi said the gain was also an indicator of investors' confidence in the equity in spite of the ongoing forensic audit initiated by the Securities and Exchange Commission (SEC).
He said the rise in crude oil price and the recent NNPC 727 million dollars Ajaokuta-Abuja Pipeline development project awarded to the company contributed to the growth.
NAN reports that `Learn Africa' came second with a growth of 39.18 per cent to close at N1.35, while ETI grew by 36 per cent to close at N20.10.
AIICO Insurance improved by 16.13 per cent during the period, Nestle 15.87 per cent, Seplat grew by 15.04, Prestige Assurance 13.33 per cent and Unic Insurance appreciated by 11.11 per cent.
Conversely, Mutual Benefits was the worst performing stock in April, having declined by 29.41 per cent to close at 24k per cent as against the 34k achieved in March.
UACN Property trailed with a loss of 21.90 per cent; Japaul Oil dipped 18.64 per cent, Unity Bank shed 18.03 per cent and Dangote Flour decreased by 16.61 per cent.
NPF Microfinance lost 16.04 per cent; Wema Bank shed 15.15 per cent, while Livestock Feeds depreciated by 14.44 per cent.
Market watchers attributed the losses to market forces, the new pricing policy of the exchange, weak dividend payout in 2017 as well as flat first quarter numbers.
Consequently, the All-Share Index during the period dropped by 236.5 points or 0.57 per cent to close at 41,268.01 against 41,504.51 achieved in March.
Also, the market capitalisation, which opened for the month at N14.992 trillion, shed N44 billion to close for April at N14.948 trillion.
The volume of shares traded closed lower with a total of 8.46 billion shares valued at N106. 11 billion transacted in 92,807 deals.
This was in contrast with a turnover of 19.17 billion shares worth N136.24 billion exchanged in 193,441 deals in March.
Commenting on the market, Prof UcheUwaleke, Head of Banking and Finance Department, Nasarawa State University Keffi, said the performance of the stock market in April was affected by heightened uncertainties in the country.
Uwaleke said the budget delay, Oando saga and leadership crisis at SEC as well as insecurity in many states combined to dampen investors' sentiments.
He said these factors kept many foreign investors on the fence as they waited to ascertain the direction of the economy.
Uwaleke explained that the month of May would be shaped by high crude oil price at over 75 dollars per barrel.
He said the impressive Q1 companies' results, low valuations, possibility of a budget passage, re-admission to JP Morgan bond index and lower inflation rate would also shore up the market in May.
Prof SheriffdeenTella of the Department of Economics, Olabisi Onabanjo University Ago-Iwoye, Ogun, said the economic uncertainties seriously affected the financial sector, particularly the capital market.
Tella said the stock market had been very unstable since the beginning of the year.
"As the second quarter is winding down, it is clear that the market has not been performing optimally. It is waiting for spending in the real sector of the economy," he said.
Tella said investors should not expect improvements if the budget was still not passed in May. (NAN)