Ahmed Abdullahi, Secretary, Nigeria Wrestling Federation (NWF), says three Nigerian wrestlers will represent the country at the U.S. Invitational Wrestling Championship on May 16.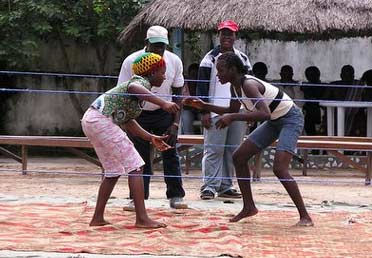 Abdullahi said on Thursday in Abuja that the athletes were training hard ahead of the championship.
Abdullahi gave the names of the wrestlers as 2018 Commonwealth Games gold medallists, Blessing Oborududu, Odunayo Adekuoroye and 2014 Commonwealth Games gold medallist Aminat Adeniyi.
Oborodudu won gold in 2018 Commonwealth Games by defeating Canada's Danielle Lappage in the women's 68kg wrestling freestyle event.
She came from behind to defeat her Canadian counterpart on points (4-3) to claim gold for Nigeria.
Adekuoroye also won gold in wrestling women's 57kg at the 2018 Commonwealth Games.
She was victorious for Nigeria in the freestyle event, having defeated Indian Pooja Dhanda in the final.
Adekuoroye defeated her rival by 7-5 points, the victory means she successfully defended her medal won at the 2014 Commonwealth Games.
"Oborududu, Adekuoroye and Adeniyi will leave Nigeria on May 13 for the Invitational Wrestling championship in U.S.
"The championship will hold from May 16 to May 18, and currently, our athletes are in camp and are training day and night for the championship.
" Oborodudu and Mercy Genesis are training in Bayelsa, while Adeniye and Odunaye are also training in Ondo,'' he said.
Abdullahi expressed optimism that the trio would perform well in the competition.
On Nigerian wrestlers' performance at the 2018 Commonwealth Games, Abdullahi said their level of preparation and constant supervision of the athletes helped.
"Our level of preparation stood us out at the Commonwealth Games.
"We always prepare ahead of time and our president, Daniel Igali, being a former champion in wrestling, also ensureed constant supervision of the athletes.
"Currently, we have commenced preparation ahead of Tokyo 2020 Olympic Games in Japan because we have a lot of programmes on ground.
"We have raking series, African Championships next year and we are preparing, building up our wrestlers on points for the Olympics,'' he said.
Abdullahi said that the Gov. Nyesom Wike championships was an added advantage for Team Nigeria wrestlers at the Commonwealth Games. (NAN)