By Rotimi Ojomoyela
Ado-Ekiti-The Ekiti State Governor Mr Ayodele Fayose yesterday derided President Mohammadu Buhari and former President Olusegun Obasanjo over their latest verbal war over the $16 billion allegedly spent on power during the tenure of the former President.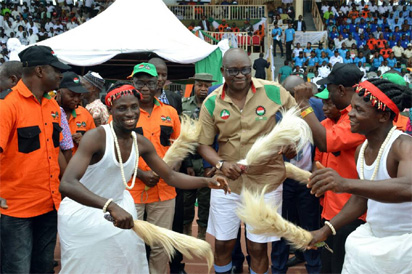 Fayose in his twitter handle yesterday said that he was enjoying the public display of what he described as 'brickbath' between the two head of state.
Fayose who said he was happy the his prediction concerning President Buhari was coming to past, said, "I remember I told those who brought Buhari that they will regret entrusting him with power
According to him, "I am enjoying these latest brickbats between President Buhari & Ex-President Obasanjo. They should keep exposing themselves for Nigerians to know what they have been hiding.
"Nigerians should remember I warned that those who brought Buhari will regret entrusting him with power."
The former President has been very unrelenting in his clamour that Buhari has not only failed but should quit in 2019. To achieve the goal, he has formed a movement that has since metamorphosed into a political party.
Buhari had said that Obasanjo has question to answer regarding the $16 billion expended on power project. He stated this when his support group led by the Comptroller General Hameed Ali paid him courtesy call.
However Obasanjo replied saying that the president was ignorance urging him to avail himself of his aide to translate his book if he is unable to read.
Meanwhile Governor Ayodele Fayose has urged the Ekiti Market women not to sell their votes come July 14 governorship election. He said that selling their votes is tantamount to selling another four years to slavery.
He stated this in Ado Ekiti yesterday while commissioning the Okeisa modern market built by his administration.
He said that those relying on federal might to win election in Ekiti state are fooling themselves because the people of Ekiti will resist any form of harassment.
"When I was not in government, beat them hands down talk less of now that we are in charge. They said there is federal might, they are empty barrel. By your grace, I defeat them outside government.
"My mothers if on the election day you collect money to vote for a particular candidate, you have just sold your future. If you want to talk, you won't have voice. Let us be truthful with our permanent voters' cards.
"Let no one destroy his/her tomorrow because if my mother had sold her future, I wont bt here as your governor. You won't labour in vain. I want to appreciate you for your support. This is the kind of market we should have all over the state.
"Those that were displayed in the former market will be first considered during allocation. Please support Olusola Eleka for Governor."