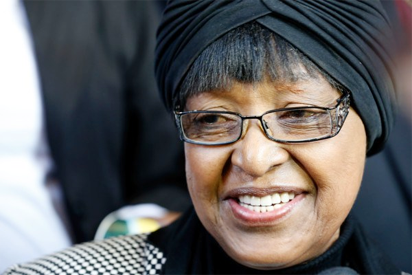 Nelson Mandela's ex-wife Winnie Mandela dies at 81
President Cyril Ramaphosa  says Winnie Madikizela-Mandela, the hero of the anti-apartheid struggle in South Africa will be given a state  funeral.
Madikizela-Mandela, who died on Monday aged 81, was one of the few remaining representatives of the generation of activists who led the fight against apartheid.
Known as 'the mother of the nation', her frequently negative image abroad contrasts with her deep and long-lasting popularity within her homeland.
On Monday night, crowds of mourners gathered outside Madikizela-Mandela's home in the Soweto township, a centre of anti-apartheid resistance that remained her base decades after the end of white minority rule.
"The nation was ill-prepared for her departure and people are grieving very deeply.
" The death is a great loss on that she has been one of the strongest women in our struggle who suffered immensely … She remained courageous on behalf of the people," Ramaphosa said.
Tributes continued to pour in on Tuesday and many have paid tribute to Madikizela-Mandela's long fight for women's rights.
Baleka Mbete and Thandi Modise, parliament's presiding officers and senior officials in the ruling African National Congress (ANC), issued a statement describing Madikizela-Mandela as "a torch-bearer to gender mainstreaming, and an inspiration to millions of downtrodden women across the length and breadth of the country, across the continent and the world".
"She defied the repressive laws and associated patriarchy, embodied a brave character of an unflinching woman in the wake of all odds against her throughout her life," their statement read.
The ANC Women's League, which Madikizela-Mandela once led, said: "She will forever remain an encouraging figure in the fight against patriarchy and male chauvinism in and outside politics.
NAN