….you can't shave my hair in my absence, Mrs. Jonathan fires back
….as court rules on EFCC's interim forfeiture request April 30
By Ikechukwu Nnochiri
ABUJA- The Economic and Financial Crimes Commission, EFCC, on Thursday, adduced reason behind its bid to take possession of two Abuja properties that were linked to wife of former President Goodluck Jonathan, Patience.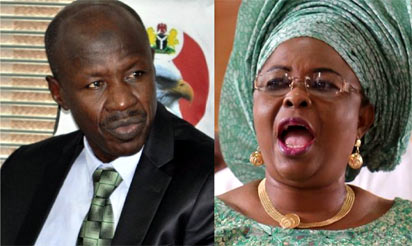 It told the Federal High Court in Abuja that the said properties, registered in the name of Ariwabai Aruera Reachout Foundation/Women For Change and Development Initiative, a pet project initiated by the former first lady, are currently subjects of money laundering investigations.
In an ex-parte motion that was moved by its lawyer, Mr. Benjamin Manji, the anti-agency urged the court to grant it the ownership of Plot No. 1960, Cadastral Zone A05 Maitama District and Plot No. 1758, Cadastral Zone A00, Business District in Abuja, belonging to Mrs. Jonathan's foundation.
It prayed the court for an order of interim attachment/forfeiture of assets and properties of the foundation, as well as "an order stopping any disposal, conveyance, mortgage, lease, sale or alienation or otherwise of the property/asset".
In a supporting affidavit that was deposed to by one Mr. Kolawole Mukaila, EFCC, told the court that it had sometimes in 2016, received via inteligence report to the office of its Executive Chairman, an alleged case of conspiracy and money laundering.
Mukaila said he was a member of a special task force that was constituted to investigate alleged amounts of money laundered by Mrs. Jonathan, "into various accounts and properties purchased, which are disproportionate to her known source of income".
According to him, "My team swung into action to conduct a descreet investigation by writing letters to Ecobank, Diamond bank, Corporate Affairs Commission and AGIS.
"That in the course of investigation, it was revealed from the responses from the C.A.C and Abuja Geographical Information Systems that the plots of land were allocated to Ariwabai Aruera Reach out Foundation belonging to the former first lady, Patience Jonathan and her allies.
"That investigation further reveals the accounts held by Ariwabai Aruera Reachout Foundation had the former first lady, Patience Jonathan as one of the trustees and signatories of the account. Copies of the response from Diamond bank and Ecobank are herebu attached and marked as Exhibit EFCC 2A- 2B respectively.
"That investigation also revealed that the plots of land were allocated in 2010 and the Certificate of Occupancy was issued in 2011.
"That all the above stated payment/transfers/purchases had no contract award backing it up whatsoever and as such was reasonably suspected to be fraudulent payments and an illegal dissipation of the nation's resources", he added.
EFCC insisted that it would be legally improper for the court to hear any counter-application from the former first lady regarding its request for interim forfeiture order on the properties.
It maintained that since its prayer was anchored on an ex-parte motion, Mrs. Jonathan ought not be heard by the court before such preservative orders are granted.
"Section 7(1b) of the EFCC Act gives the Commission the powers to investigate persons and properties even without prompting of any person or petition, if the agency feels it is proceed of crime", EFCC lawyer, Manji submitted.
Meanwhile, in a counter-motion, Mrs. Jonathan, through her lawyer, Chief Mike Ozekhome, challenged the powers of EFCC to take possesion of assets of her Foundation.
She prayed the court to strike out EFCC's ex-parte Originating Motion dated September 20, 2017, on the ground that the court lacked the jurisdiction to entertain the application which she said was legally defective.
While moving the motion dated October 16, 2017, Ozehkome maintained that EFCC has not proved that his client ever engaged in any form of illegality.
He said EFCC merely based its suspicion on fact that the Foundation never executed any contract to warrant its ownership of such assets.
Ozekhome urged the court to ignore EFCC's submission that his client should not be heard since the application for temporary forfeiture was brought ex-parte.
"This is a proper case for my lord to hold that the EFCC cannot shave our head in our absence", he added.
Besides, he asked the court to sanction EFCC for instigating the demolition of part of the disputed properties, despite the pendency of the suit.
In a six-paragraphed affidavit that was deposed on her behalf by one Chinedu Maduba, Mrs. Jonathan told the court that the NGO was founded in 2006 when she was the first lady of Bayelsa state, in conjunction with other trustees.
"That the said NGO was registered as a charitable organization and in the last 10 years, it has carried out several charitable programmes, in line with its objectives. Some of the programmes include vocational training for women, treatment of people with heart and kidney problems within the country and abroad, as well as assisting less priviledged generally.
"That recently, the Respondent herein began to harrass Mrs. Patience Jonathan, her relatives and the NGO, by indiscriminately freezing their accounts, even without court order, breaking into their properties, sealing off the NGO's properties without an order of court.
"That the actions of the Respondent led to the filing of a Fundamental Human Right suit against the Respondent by Mrs. Patience Jonathan".
She argued that EFCC's application was an abuse of court process, saying it was filed to overreach a fundamental right suit that was lodged by one of the trustees of Ariwabai Aruera Reachout Foundation, against EFCC with respect to assets/properties of the Foundation.
After he had listened to all the parties, Justice Nnamdi Dimgba fixed April 30 for ruling.