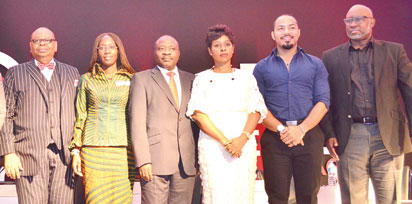 L-R: Convener Innovention Series and Executive Vice Chairman, Verdant Zeal Group, Dr. Tunji Olugbodi; Chairperson 7th Innovention Series, Dr. Ibilola Amao;  Chairman Verdant Zeal Board, Prince Femi Oyewole; CEO, Terra Kulture and Keynote Speaker, Bolanle Austen Peters; Panel Discussants,  Ramsey Nouah, and Ade Adefeko, at the occasion.
BY ADETUTU ADESOJI
Verdant Zeal Marketing Communications Group, a leading multidisciplinary business solutions provider in Nigeria, Ghana and The Gambia, with specialization in branding, consultancy, PR management, media consulting, digital marketing and events activation, held its 7th Innovention series on March 22, 2018, at the Civic Center, Victoria Island, Lagos.
The 7th edition themed "Building Africa's Reputation through Mediatainment" had Principal Consultant, Lonadek Oil and Gas, Dr Ibilola Amao as chairperson.
In his welcome speech, executive vice chairman, Verdant Zeal Group and convener of the Innovation series, Dr Tunji Olugbodi acknowledged the media as being a major player in the rebranding of the African image.
"About two decades ago, Africa had an ignoble past as a continent riddled with corruption and it was renowned for poverty, human rights violations, among others. However, the narrative has started changing as Africa is currently credited with many global creative works, which have been amplified through media exposure and the internet. The creative industry has changed the perspective about Africa," he said.
The Keynote address was delivered by Mrs Bolanle Austen Peters, CEO BAP and founder of Terra Kulture. In her speech she urged Nigerians to leverage on local contents (culture) in order to generate income and not just adapt foreign cultures.
"We need to learn how to use technology to write our history. Our children don't know our stories because we don't package them well and there is no one to pass this history down. Everybody is following the American culture, meanwhile, they have nothing to sell but they have made their culture sexy," she said.
The panel discussants were Yahaya Maikori, founding Partner, Law Allianz, Ade Adefeko, Vice President Corporate & Government Relations, OLAM Nigeria, Abisoye Fagade, CEO Sodium Brand Solutions,  Alibaba Akpobome, President of Alibaba Hicuppuray, Ramsey Nouah, CEO Ramsey Films and Darey Art Alade, Creative Director of Live Spot who played the role of Moderator. They talked about piracy being one of the major challenges when it comes to entertainment contents. According to Alibaba, the first thing to do before making money is to fight corruption.
They also proffered solutions to some of the pressing challenges of the entertainment industry. They talked about reinvesting in projects and government providing enabling environment for creative works.