By Ishola Balogun
U.S. Ambassador W. Stuart Symington joined prominent Nigerian singer, record producer, and entrepreneur, Innocent Idibia at the gala launch of a new TV drama series, In Love and Ashes. The eight-part series was funded by the U.S. Agency for International Development, USAID, and addresses the impact of war and terrorism on everyday people's lives.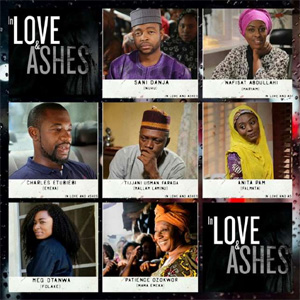 The star-studded launch featured a screening of the first episode, which centered on the predominantly Kanuri-Muslim society of Borno State in North-East Nigeria.  The ongoing insurgency in that region and the resulting disruption of institutions, destruction of infrastructure and displacement of people, have hit this society hard. Despite the devastation, hope still thrives on the streets of Maiduguri, where the drama is set.
The series touches on themes such as tribal and religious inter-marriage, the status of women and girls, the drivers of radicalisation and violent extremism, the influence of political "godfathers,"  and the hardships connected with being an internally displaced person.
"This series illustrates what every Nigerian knows by heart: the greatest resource of Nigeria is the Nigerian people themselves," Ambassador Symington said at the launch.  "This dramatic and entertaining series reminds us why so many Nigerians take such pride in being Nigerians. It celebrates Nigerians' diversity, resilience, dynamism, creativity, tolerance and warmth. Those are the forces and the qualities that unite Nigerians and Nigeria."
The title track of the series was produced by NowMuzik, which was performed by Innocent Idibia at the launch.  In Love and Ashes was scripted and produced by Watershed Entertainment, and will be broadcast by Ebony Life TV starting on April 4, with additional broadcasts on NTA and Startimes channels to follow.