An NGO, Mzehemen Wase Initiative (MWI), says it is planning a "Development Summit" in Benue to discuss incessant farmers/ herdsmen clashes in the state and proffer solutions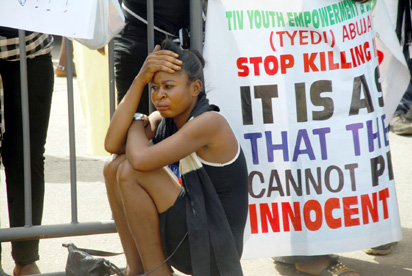 Mr Justin Gbagir, the convener of the proposed summit, told newsmen on Sunday in Makurdi that the summit was being conceived by the group to find lasting solutions to the growing issues of insecurity in the state and that the Tiv of central Nigeria were adequate in numbers to get three states of their own
He said discussions at the summit would also include possible ways of enhancing economic prosperity of the state as well as promoting the socio-cultural heritage of the Tiv nation.
Gbagir said that the Tiv people, who are the fourth largest ethnic group in the country as shown by the 2006 census figures, were yet to find their bearings in the country's national politics.
He said that the summit would hold between April 19 and April 20.
The summit convener said the group was working hard at repositioning the Tiv nation to occupy its rightful place in national politics.
He wondered why the Tiv, with such huge demographic figures, were all confined to one state.
"Nigeria is currently witnessing unprecedented ethnic groupings and agitations with various demands; the Tiv people appeared unprepared and without a common agenda in the face of these agitations," he said.
He said that if united with a common agenda, the Tiv of central Nigeria were adequate in numbers to get three states of their own.
Some of the expected outcomes of the summit are creation of a shared vision and recommendations about the future direction of the Tiv nation.
Others are to foster improved relationship with other stakeholders to facilitate change and future action of the people.
The convener said that the summit would be held yearly.
He said the group would resist all forms of political infiltration and remain apolitical as well as focused on its sole agenda – the development of the the Benue valley.
Gbagir, a lawyer, re-echoed the call for the upgrading of the ongoing military exercise in the state to effectively tackle the issue of herdsmen's invasion in the state.
He expressed regret that in spite of the presence of soldiers executing the exercise in the state, armed herdsmen were still killing people. (NAN)