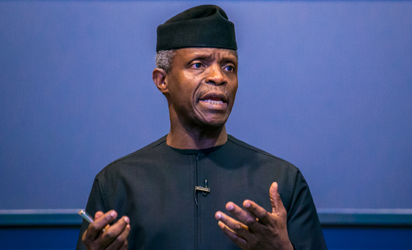 Vice President Yemi Osinbajo
Says rot in previous govt has never happened before
We'll engage NASS for speedy passage of 2018 budget
By Ishola Balogun
Vice President Yemi Osinbajo has said  there is no corruption in the presidency under the watch of President Muhammadu Buhari, adding that such stance has saved the country a lot of money.
Osinbajo also reiterated that government's efforts towards curbing corruption in the country would soon begin to manifest.The Vice President spoke while receiving the leadership of The Companion, an association of Muslim Businessmen and Professionals who paid him a visit in his office in Abuja, recently.
According to Osinbajo "One thing that is very sure now, is that this presidency is not stealing and we have a President who is not stealing and will not steal. There is no corruption in the presidency under the current government. This kind of body language is what is saving this country a lot of money now. Like what is happening in JAMB, Customs, FIRS, NPA, FAAN, NIMASA where we have witnessed improved revenue collection and returns to govt for unspent resources. When we begin to deal with corruption in all facets of government particularly within the public sector, there will be a lot of improvement in our country. The government is also looking at improving ease of doing business to  be able to attract more foreign direct investment over a period of time. All MDA's will be made to submit their expenditure in line with the budget as well and in compliance with the accounting year".
Osinbajo said the rot the current administration met in office had never happened before. "The rot we met in office has never happened before. The previous government spent the whole reserves and even borrowed money which were distributed for election purposes. It has never happened in this country where the presidency directly takes money from the Central Bank to distribute to its cronies and where very few officials stole the country dry. This is the only nation where such can happen and the same party under whose watch it happened will still be clamouring to be returned to power", he said.
The vice President stated that although the 2018 budget submitted to the National Assembly since October last year was yet to be passed,  government will continue to engage the lawmakers for speedy and accelerated passage.
"The government has improved a lot in agriculture as we now depend largely on local rice production which has reduced import by about 90 percent. We are looking at improved capacity at the refineries and reducing dependency on importation of PMS. Government is determined to do a lot particularly at improving our standard of education particularly vocational education and tertiary institutions,  infrastructure, and general reform in our way of life as Nigerians.We cannot rest until social structure is improved and election promises are met", he said.
He thanked The  Companion for their visit, adding that the government would welcome constructive engagement with them as Muslim professionals as well as their support with good ideas.
Herdsmen killings and food production —The Companion
The Companion, led by its National Amir (President) Alhaji Thabit Adewale Sonaike has warned  Vice President Yemi Osinbajo  that the huge gains reported in food production nationwide will be jeopardised if urgent steps were not taken to arrest the plague of herdsmen killings ."Of particular concern is the herdsmen and farmers clashes that have been widely reported in different parts of the country. The wanton killing and destruction of lives and property is worrisome and calls for an urgent solution," he said.
The group described the proposed establishment of cattle ranches or grazing reserves as right steps  towards  a lasting solution.This, Sonaike said, will eliminate cattle rustling, engender peace, create jobs and generate income for all stakeholders including the government at all levels.He added: "Our take is that government should take the lead in the establishment of ranches, provide generous incentives that will make the establishment of more ranches attractive to businessmen and educate and encourage  cattle owners to embrace the option of modern cattle rearing as against the current practice of open grazing. We must find a way to turn the situation into huge economic opportunities for the people.
"Still on agriculture and food security, we commend the government for the twin achievement of increased food production in the country and the drastic reduction in food import bill. However, our concern is sustainability devoid of politics and sentiments. The government must put in place a mechanism to sustain the current agricultural production through local technology and adequate incentives. To this end, we call on the government to invest massively in the development of human capital and local technology.  Our institutions in the agric chain (i.e. universities, agricultural research institutes, financial institutions, etc) must be supported and challenged to continually come up with an effective strategy for gaining enhanced agricultural production levels with a focus on sustainable improvements in various aspects that have been identified by experts.The ultimate goal in agriculture should be to attain digital agriculture whose outcomes include more productive, profitable and sustainable systems for food security.  It must be stated however that the focus on agricultural production should be complemented with similar attention to storage, the establishment of more agro-allied industries and exportation of food products."