…Demand executive order on telecom infrastructure as critical national asset
…Seek harmonisation of taxes, levies
…Sue NASS over frequent summons, harassments
By Prince Osuagwu
Barring urgent presidential intervention over alleged incessant closure of telecom operators' cell sites and base stations, Nigeria may have the 2019 general elections without telecommunications.
This is as the telcos have warned that henceforth, they would not re-open any site arbitrarily closed by states and agencies of government over non-payment of some taxes and levies, they (telcos) claim are arbitrary and criminally duplicated.
The telcos say they are faced with uncountable number of ridiculous taxes and levies, leaving the operating environment so harsh and return on investment less attractive.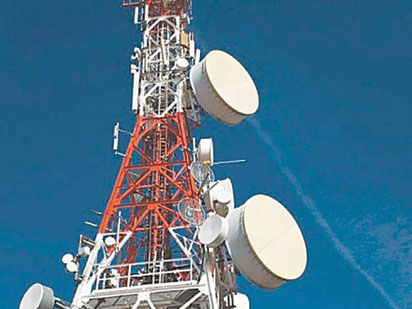 They complained that the taxes and levies are duplicated in different names and among federal, state and local governments, making them practically impossible to comply with; yet at the slightest delay in payment, agencies involved resort to closing down critical network facilities.
They are demanding that President Muhammadu Buhari declares telecom facilities critical national assets as stipulated by the Cybercrime Act, 2015.
The Cybercrime Act 2015 says Executive order is required to declare telecom infrastructure critical national asset. Part 11, section 3(1), (2) (a-g) states that: "Designation of certain computer systems or networks as critical national information infrastructure: The President may on the recommendation of the National Security Adviser, by Order published in the Federal Gazette, designate certain computer systems, networks and information infrastructure vital to the national security of Nigeria or the economic and social wellbeing of its citizens, as constituting Critical National Information Infrastructure.
The Presidential Order made under subsection (1) of this section may prescribe minimum standards, guidelines, rules or procedure in respect of – (a) the protection or preservation of critical information infrastructure; (b) the general management of critical information infrastructure; (c) access to, transfer and control of data in any critical information infrastructure; (d) infrastructural or procedural rules and requirements for securing the integrity and authenticity of data or information contained in any critical national information infrastructure; (e) the storage or archiving of data or information regarded critical national information infrastructure; (f) recovery plans in the event of disaster or loss of the critical national information infrastructure or any part of it; and (g) any other matter required for the adequate protection, management and control of data and other resources in any critical national information infrastructure"
Part 111 of the Act which deals with offences and penalties, stipulates in section 5(1-3) that: Any person who commits any offence punishable under this Act against any critical national information infrastructure, designated pursuant to section 3 of this Act, is liable on conviction to imprisonment for a term of not less than fifteen years without an option of fine. (2) Where the offence committed under subsection (1) of this section results in grievous bodily injury, the offender shall be liable on conviction to imprisonment for a minimum term of 15 years without option of fine. (3) Where the offence committed under subsection (1) of this section results in death, the offender shall be liable on conviction to death sentence without an option of fine."
The telcos through their trade body, the Association of Licensed Telecom Operators of Nigeria, ALTON, said it was high time the President took that bold step to secure telecom infrastructure in the country.
Chairman of the body, Engr. Gbenga Adebayo, told Hi-Tech that "we are law abiding corporate organisations paying our taxes as and when due. Irrespective of the fact that we are under regulation by an agency of the Federal Government, we are also faced with several other taxes and levies which are truly ridiculous and criminally duplicated by all manner of agencies and state governments.
We have continued to engage these states and agencies but rather than exhausting the proper dialogue channel, at the slightest opportunity, they resort to closing down our critical operating facilities which even have serious security implications. "Now, we are approaching an election year, if these things continue, the country should expect telecom blackout because we are not going to open any site closed down arbitrarily by any state or agency under the guise of non-payment of these obnoxious taxes.
The implication of this is that telecom as a borderless technology knows no boundaries. If for instance, those sites that are in the border areas are closed down, it will affect services in the states they border and both will have telecom blackout and we will not reopen any site and will not be held accountable.
"Again, the regulator should not ask us to provide optimum quality of service, because it is not possible. You cannot have sites closed down in some states and use the few states that are operating normally to judge us on key performance index; that will be highly unfair.
"All that can solve these issues is for the president to step up and make a declaration as required by the Cybercrime law that telecom infrastructure is critical national asset. Only then would we have the legal backing and instrument of state to fight these agencies shutting down our sites arbitrarily," he added.
Adebayo said the resolutions were made after the association's general meeting in October 2017. The association also took a swipe at the Amended Taxes & Levies Order, 2015, saying it has engendered the institution of multiplicity of taxes across different tiers of government.
"The Amended Order failed to fix the taxable rate resulting in the imposition of arbitrary levies and charges at the state government levels. The industry is also burdened with enactment of laws at the state government levels to legitimise spurious levies and charges on our members which negates the ease of doing business in Nigeria.
Specifically, item 3 (b) of the Amended Schedule to the Taxes and Levies (Approved List for Collection) Act introduced new levies and taxes under items 12 – 25. Most of these taxes and levies were hitherto contested by our members on the grounds that they were not applicable to telecommunications operations justified by the previous Taxes and Levies (Approved List for Collection) Act 1998.
"It is disturbing that the entire instrument has given the state governments authorisation to coerce and disrupt the operations of our members in order to compel the payment of sundry levies, charges and taxes.  Rather than Amended Order addressing the issue of multiple taxation; it on the contrary, increased the tax burden of our members and adversely impacted the ease of doing business in Nigeria."
Meanwhile, the association has sued the National Assembly, NASS over incessant and overlapping oversight functions being carried out by various committees of the two legislative chambers.
The suit, filed February this year at the Federal High Court Abuja, is seeking the court's interpretation of the provisions of the constitution on the extent of the National Assembly's oversight functions on private companies, particularly telecom companies which are already subject to regulatory oversight by the Nigerian Communications Commission, NCC.
It is also asking the court to determine the specific nature of information which the NASS can lawfully request from private companies including Telecommunications Companies, and whether it includes companies' confidential information and information within the purview of government agencies.
Also, it has urged the court to determine specific nature of directives that can be made by NASS pursuant to the outcome of their investigative activities as well as declaration on the proprietary of the NASS to issue these summons and insist that telecom companies are represented by only their CEOs and not other senior management officers whose job functions may directly deal with the subject matter of investigation.
The suit is also seeking an order restraining the NASS from serving any further summons on telecommunication companies pending the determination of the action.
Commenting on the suit, Adebayo said "ALTON members have been inundated with incessant summons from different committees of the NASS served on their chief executive officers to appear before several National Assembly committees, which negatively impact on ability to focus on their business operations.
"The NASS' insistence on attendance of CEOs at such session is without consideration of these CEOs reasonable schedule conflict or the fact that other senior management staff may be better versed and suited due to the nature of their job roles vis-a-vis the subject matter of investigation" he said.
Adebayo noted that some of the investigative duties of the different committees overlap and require similar information from the attendees. "For instance, members are summoned by both the standing Committee on Telecoms and its Ad-hoc Committee on Operational activities of Telecoms Equipment and Service Providers both investigating loss of revenue to the federal government.
"The Committee on Telecoms is also investigating loss of jobs which the Committee on Labour also summons members in respect of. The committee on Telecoms also served summons for investigation by its ad-hoc committee for Value Added Services and committee investigating locally manufactured skills" he said.
He contended that apart from the duplication of effort by the committees, "the manner of invitation borders on harassment of our members as the invitations are sometimes scheduled on the same day leading to conflict or scheduled back to back for three to four days, which will necessitate member CEOs being away from their businesses for such long periods.
"Furthermore, some of the requested information border on information within the purview of specific government agencies which the NASS could easily request the agencies to provide, such information as evidence of Tax remittances to government since inception of members operations, which could date as far back as 16 years; or confidential information which members should not be obliged to provide e.g. list of all employees and current remuneration package of these employees" he added.