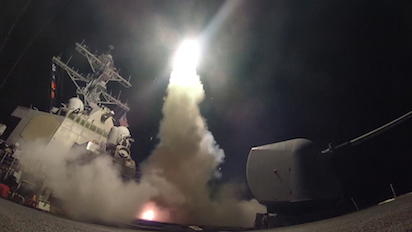 In this image released by the US Navy, the guided-missile destroyer USS Porter conducts strike operations while in the Mediterranean Sea, April 7, 2017. US President Donald Trump ordered a massive military strike on a Syrian air base on Thursday in retaliation for a "barbaric" chemical attack he blamed on President Bashar al-Assad. The missiles were fired from the USS Porter and the USS Ross, which belong to the US Navy's Sixth Fleet and are located in the eastern Mediterranean. / AFP
Syrian air defences intercepted several missiles targeting two airbases in Syria after midnight Tuesday, in the wake of a U.S.-British-French missile strike in the capital Damascus.
The latest attacks came in retaliation for the alleged use of chemical weapons by the Syrian government in Douma,
a suburb outside of Damascus, on April 7.
Most of the six missiles, targeting the Shayrat airbase in Homs, were intercepted by the Syrian air defences,
said the War Media, the media wing of the Syrian army.
The wing said three other missiles, targeting the Dumair airbase in the Dumair area in the eastern Qalamoun region
north of Damascus, were all intercepted before reaching their targets.
Pan Arab al-Mayadeen TV said the targeting of the Dumair airbase comes a day before a deal to be reached for
the evacuation of rebels from that area.
Syrian state television aired images of missiles targeted Shayrat airbase being shot down over the areas of Homs.
Yet it did not clarify who launched the strike.
There are speculations that Israel is more likely to be behind the overnight military attack, after the Pentagon
denied carrying out operations on the aforementioned airbases, according to Syrian state news agency SANA.
The Syrian government forces told the Al-Masdar news portal that the airstrike on the Shayrat airbase could be
fired from the Israeli territory.
There has been no comment from the Israeli military on the issue so far.
According to the Syrian Observatory for Human Rights, the Israeli warplanes fired missiles on the T-4 airbase in
the eastern countryside of Homs on April 9,
No country has yet claimed the attack after midnight.
Yet the U.S. officials earlier said Washington wasn't planning another strike after the missile attack on Saturday.
The Shayrat airbase was hit by a U.S. missile strike in April 2017, over similar allegations of the use of
chemical weapons by the Syrian army in Idlib province in the same year.
The Russian military said it would help protect international chemical weapons inspectors on their visit to
Douma over the alleged chemical attack, according to Yuri Yevtushenko, head of the Russian Centre for Peace
and Reconciliation in Syria.
Eariler on Monday, the U.S.accused Russia of preventing international inspectors from entering the attack site.
While calling for "an objective investigation," Moscow disavowed the accusation and blamed the delays on the
U.S.-led missile strike on Syria on Saturday.