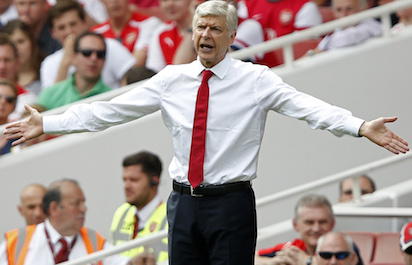 (FILES) In this file photo taken on August 09, 2015 Arsenal's French manager Arsene Wenger gestures during the English Premier League football match between Arsenal and West Ham United at the Emirates Stadium in London on August 9, 2015. Arsene Wenger will bring his 22-year stay in charge of Arsenal to a close at the end of the season, the Frenchman announced on April 20, 2018. / AFP PHOTO
Arsene Wenger's decision to finally step aside as Arsenal manager after 22 years in charge has sparked fevered speculation over who the Gunners will turn to next to succeed the Frenchman.
Arsenal are struggling to qualify for next season's Champions League with victory in the Europa League their only realistic route back into Europe's premier club competition.
However, with one of the biggest budgets in world football and a squad boasting the talents of Mesut Ozil and Pierre-Emerick Aubameyang, the Arsenal job remains highly sought after.
Here are five contenders to take over at the Emirates:
Patrick Vieira (New York City)
The inspirational captain of Arsenal's 'Invincibles' that went an entire league season unbeaten in 2003-04, Vieira is a symbol of the glory years under Wenger.
Vieira won three league titles and three FA Cups during his playing days at Arsenal but has taken his first steps in management with another of his former clubs, Manchester City.
The Frenchman took charge of City's elite development squad for 18 months before joining New York City, part of a network of clubs around the world owned by the City Football Group.
He led NYCFC to the MLS playoffs in each of his two full seasons in charge but lost out in the Eastern Conference semi-finals on both occasions.
While popular with the fans, Vieira's lack of top-level managerial experience would pose a huge risk in Arsenal's attempts to re-establish themselves as a Premier League contender.
Brendan Rodgers (Celtic)
Rodgers has restored his reputation in just under two years at Celtic with the Glasgow giants on the brink of sweeping a treble of domestic trophies under the Northern Irishman for a second consecutive season.
The 45-year-old's three-and-a-half year spell at Liverpool ended on a sour note in October 2015 but he came as close as anyone to ending their 28-year wait for a Premier League title in 2013-14.
Celtic's major shareholder Dermot Desmond said on Friday he would not stand in Rodgers' way.
"I don't think you can put handcuffs on anybody if they want to go to a club as good as Arsenal," he said. "It will be Brendan's decision and Brendan's decision only."
Joachim Loew (Germany)
A World Cup winner, Loew has resisted the temptation to swap international football for the rigours of day-to-day club management and is under contract with the German federation until 2020.
Despite being one of the favourites for the job with the bookies, Loew's chances are harmed by the fact he will lead Germany at the World Cup this summer.
Arsenal chief executive Ivan Gazidis conceded the club are likely to favour a quick appointment with an early end to the transfer window in August leaving just three weeks between the World Cup final in Moscow on July 15 and the closing of the window for Premier League clubs on August 9.
Carlo Ancelotti (unattached)
Ancelotti has more experience of managing top European clubs than all the other pretenders put together and is believed to be keen on a return to London after a two-year spell as Chelsea boss between 2009 and 2011.
The Italian has three Champions League titles to his name as a coach and has won the league in Italy, France, Germany and England.
However, he was sacked by Bayern Munich in September and after Wenger Arsenal could be tempted to look for a younger coach than the 58-year-old.
Luis Enrique (unattached)
Luis Enrique enjoyed a successful spell as Barcelona coach
A treble winner in his first season in charge of Barcelona in 2014-15, Enrique has enjoyed a season off after three gruelling campaigns at the Camp Nou.
Those three seasons delivered two league titles and three Copa del Rey wins on top of the Champions League in 2015.
Enrique is also interested in a move to the Premier League and would fit Gazidis's claim that Arsenal want a successor to follow Wenger's attacking style of play.