By Gbenga Olarinoye
OSOGBO—Nobel Laureate, Professor Wole Soyinka yesterday, implored the Federal Government to reverse what he described as "the seeming triumph of evil over good" as being witnessed across the country, arguing that failure to do so meant no government existed in the country.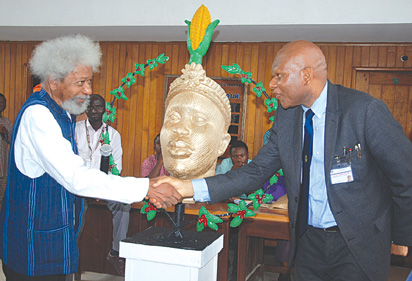 The renowned literary giant and social critic equally expressed worries over the state of the nation, saying it was not the best of time for the nation and its citizens.
Speaking at Obafemi Awolowo University, OAU, Ile Ife, before unveiling the logo of 2018 OAU Ife Festival of Foods and Identity, being organised by the Institute of Cultural Studies, Prof. Soyinka, said: "This is not the best of times for this nation. For us as a people, it is not the most cheerful of times, we have a responsibility to ourselves as living beings not to allow destruction to overtake or overwhelm our creativity. We shall beat swords into plough shears, it means the instrument of cultivation. We must overcome the instrument of destruction.
"Between the time of the launching of this logo and the action manifestation of the festival itself, we should have seen signs that the clash between swords and the ploughshares is reversed. This would have given us total fulfilment as people with culture, peace and harmony. We cannot continue to see the seeming triumph of the guns over the ploughshare. We want to see this government's reversal of the triumph of the swords over the plough shears. If this has not taken place, it means we have no government.
"If those who have been displaced, the farmers that has been displaced in their hundreds from various parts of this nation especially in the north, if the farmers have not been taken back to their productive environment, it means we have no government. Let us all join hands to bet the sword into ploughshares."
Earlier, OAU Vice Chancellor, Prof. Eyitope Ogunbodede, said the building where Prof. Soyinka lived on the university campus had been dedicated to him to become a tourist centre.
According to him, the importance of food to the healthy living could not be overemphasised, noting that the school would continue to promote ventures with capacity to project positively Yoruba culture.
Giving details of the festival, the Director, Institute of Cultural Studies, OAU, Dr. Ayo Omidire, said during the festival which begins July 30,celebrity shelves would be built where some important dignitaries would be invited to cook their favourite dishes.