By Johnbosco Agbakwuru
ABUJA—VICE  President Yemi Osinbajo and the governor of Akwa Ibom State, Mr Udom Emmanuel, yesterday met behind closed-doors at the Presidential Villa, Abuja.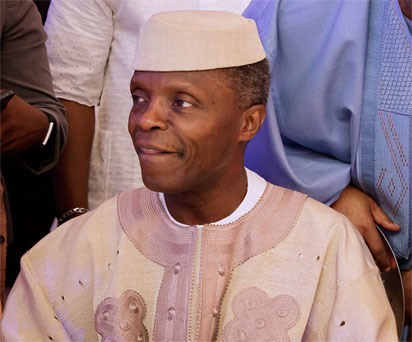 The meeting came on the heels of the alleged inflammatory statements by some political leaders on the onshore/offshore dichotomy occasioned by the report of the Governor Nasir el-Rufai-led committee to the ruling All Progressives Congress, APC, on restructuring.
It will be recalled that the report of the Kaduna State governor's committee on fiscal federalism and restructuring submitted to the APC on onshore/offshore dichotomy had made far reaching recommendations which didn't  go  down well with some stakeholders from the oil-rich region.
The Federal Government, though, claimed it had addressed grey areas relating to the sharing of Federation Account Allocation to littoral states as it concerns crude oil revenue.
However, Governor Emmanuel, in his reaction to the development, said it was irresponsible for people who had no business with oil generation in the country to make sweeping statements that could jeopardise the polity.
In an interview with the State House Correspondents after his meeting with the Vice President, Emmanuel said he was bothered about inflammatory statements coming from people with little knowledge about oil and the economic implications.
He said: "The Vice President is the Chairman of the National Economic Council, so once you see forward looking governors like us coming to have a discussion with him, you know it has something to do with the economy.
"Whatsoever robs off on the state must also play a part in the country,  especially in the state that I run, as the largest oil producer in this country."
Subscribe for latest Videos