By Luminous Jannamike
ABUJA – Entrance and exit from the Aso Villa State House Abuja was literally blocked for hours on Wednesday when members of Shi'a Muslims under the aegis of the Islamic Moment of Nigeria, IMN, trooped out in their thousands to protest the continued incarceration of their leader, Sheikh Ibrahim El-Zakzaky.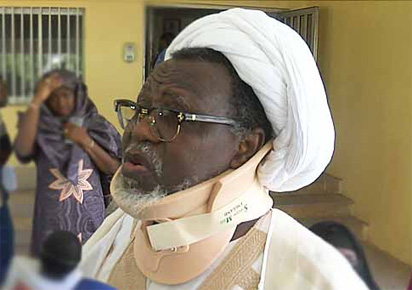 According to the Secretary, Academic Forum of the movement, Abdullahi Musa, the group took their protest to the State House to express their seriousness in demanding El-Zakzaky's freedom from illegal detention following President Muhammadu Buhari's continued refusal to release him for over two years now.
He told Vanguard that members of the movement were emboldened to confront President Buhari in his Aso Villa mansion due to his unjust treatment of their leader and the high-handedness of operatives of the Department of State Service (DSS) against him.
His words: "As we speak, El-Zakzaky cannot say his daily prayers due to his critical health condition. He suffered a mild stroke in January 2018 but the federal government is hiding that fact from the public. He is blind in one of his eyes and the other one is almost becoming blind.
"The medical personnel that examined El-Zakzaky's health condition advised the government to let him go and look after himself properly. The Courts have also directed so. Civil and religious groups have likewise called on the government to let him have his freedom. But, the government has refused to heed the call of the people. What other options do we have?
"We have been protesting daily here in Abuja for about 80 days now, we have been maltreated, oppressed, and many of us have been killed by the police including Sheikh Umar Sokoto but we will not stop until this injustice is stopped and Zakzaky is free."
.After several hours of the barricading the entrance and exit from the Aso Villa State House, the FCT Police Commissioner, Mr Sadiq Bello, sent a team of police officers to plead with the protesters to disperse to their homes in order to avoid a breakdown of law and order that could compromise the security of the Presidential Villa.
He however urged them to appoint a delegation to meet with him in his office so that the group's message would be properly channeled to the President.