By Ayo Onikoyi
Hotshot Yoruba actress of Igbo descent, Regina Chukwu, has seen all there is to see when it comes to making movies and she's so fetish about it that no role is a taboo for her. The mother of two revealed to Potpourri in a chat that there's no role she cannot take on as long as it is something that would not embarrass her children in the future.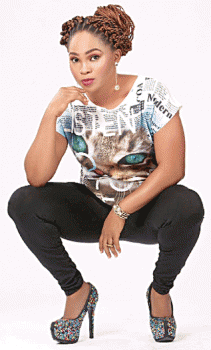 When asked if that includes doing raw sex scene, the Enugu State-born beauty answered in the affirmative, giving reasons why she would go the full horde.
"Why not? I have done it one or two times in the past. Acting is make-belief so you have to be comfortable when you're doing it and you also have to take into consideration that our society does not really support some things; they may just condemn you for doing some things but that does not mean we would not do it.
We only have to be considerate when we're doing it. There was this movie I shot where we were supposed to be  making love; I mean serious lovemaking. After the director did it, and everything, I made sure they did a kind of behind-the-scene shoot  to show people I wasn't really naked as the movie portrayed. I was actually wearing clothes but the editing got people thinking I was really naked. I always make sure this is done because of my children, they are kids and would not understand. I made them do a behind the scene so that when we finish, people can see that so many people were in the room while we were doing it" she said.
Regina Chukwu is one of the leading household names in the Yoruba movie industry. She has done so many blockbuster movies that her name rings as loud as the very best in the industry. But Regina Chukwu is not a Yoruba woman, she's Igbo but her footprints in the acting business can only be found alongside top Yoruba acts.
Her popular films include Akun, Ewatomi, Idaro, Awolu ati Awalu, Ogunso to name a few.
Subscribe for latest Videos