By Gabriel Olawale
A 74-year-old man, Cyril Onwuka, has decried the continuous harassment of his son, Mr. Victor Onwuka, by security agencies for being a member of the proscribed Indigenous People of Biafra, IPOB.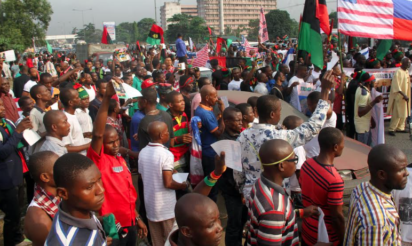 The septuagenarian, who recently underwent knee surgery following an injury he sustained in one of the raids of his Asaba home in Delta State, said plain clothes security agents visited his house twice in December 2017 and just before the Easter celebration to find out the whereabouts of his son.
He said his son Victor had left the country in 2016 after series of threats to life.
Addressing newsmen in Asaba, Onwuka said that the son's residence located at No. 6 MPI Close, off Ada George Road in Port Harcourt, Rivers State had also been visited and ransacked by security agents prior to his son's exit.
While noting his 51-year-old son  and family have had to relocate out of Nigeria before the activities of IPOB got to its peak in 2017, the septuagenarian urged security agencies to stop harassing him.
He said: "Some men in plain clothes who claimed they were security agents recently visited my palace located at No. 1 Agbor Lane, Cable Point, Asaba in search of my son, Victor. It is not the first time they are coming.
"They visited my home twice in December in search of my son who has left the country as a result of his involvement in this IPOB movement. They ransacked everywhere including my palace in Asaba and my son's residence in Port Harcourt."