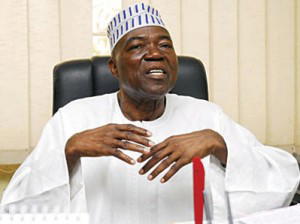 Jeremiah Useni
Sen. Jerry Useni (PDP/Plateau South) on Wednesday declared his intention to vie for the Plateau governorship seat on the platform of the Peoples Democratic Party (PDP).
Useni, who made the declaration at the party's state secretariat in Jos, said that his principal focus was to restore peace on the Plateau.
"I want to restore peace and justice to Plateau. I want to restore unity, love, dignity and prosperity to Plateau. I also want to restore the vision of its founding fathers.
"Plateau belongs to us and our task is to make it a great place; that is what I want to do," he said.
The senator cautioned his supporters against any form of violence in the course of the campaign, urging them to focus on the issues that were beneficial to the Plateau people.
In his remarks, the state chairman of the party, Mr Damishi Sango, appealed to PDP members seeking elective positions to remain faithful to its ideals after victory.
He also cautioned elected members against defecting to other folds, saying that such defection was working against the development of strong principles in the growth of Nigeria's democracy.
Sango advised aspirants against attacking one another, saying that the internal contest for the party's ticket should be seen and treated as a family affair.
He advised PDP members not to be discouraged by the "hard stance" of the government in power against the opposition, and urged them to be committed to the goal of giving the Plateau people the change they were yearning for.
The chairman promised to ensure a level playing ground for all aspirants, saying that the party's primary elections would be transparent, fair and credible.
Sango apologised to Nigerians for PDP's mistakes that cost the party the 2015 election, and promised that the nation would witness massive development if PDP was given another chance in 2019 since it had learnt its lessons.
Pof. Dimis Mailafia, Director-General, J.T. Useni Campaign Organisation, said that Plateau needed a competent hand to lead it to the promised land, and declared that Useni was the best material to lead Plateau "in these trying times".
"Useni has a lot of experience; he is an army general, former FCT minister, former military governor and now a senator representing Plateau South," he said.
Mr Amos Gombi, the party's state Deputy Chairman, who spoke on the governorship race, said that Useni was the fourth aspirant to declare his interest in the seat.
"The first aspirant to register his interest was the former Secretary to the State Government, Prof. Shedrach Best, followed by Mr Caleb Mutfwang and Benjamin Battso. Both of them submitted their letters of intent last week," he said. (NAN)