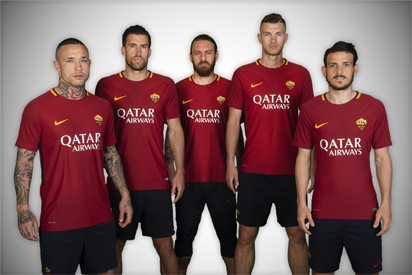 Italian club and Champions League semi-finalists Roma announced Monday their new shirt sponsors will be Qatar Airways in a three-year deal, described as the largest the club has ever signed.
The deal was made public just a day before one of Roma's biggest games for decades, the first leg of a Champions League semi-final against Liverpool at Anfield on Tuesday.
The team's shirts, which will be their second-choice colours of white, will carry the sponsorship for the first time in that match.
L'#ASRoma è lieta di annunciare @qatarairways come Main Global Partner e nuovo sponsor di maglia#GoingPlacesTogether pic.twitter.com/VJatNteRew

— AS Roma (@OfficialASRoma) April 23, 2018
"We are delighted to announce this historic partnership between AS Roma and Qatar Airways, two great brands with global ambitions," said Roma's president Jim Pallotta.
"Today's announcement is the result of discussions behind the scenes for more than eight months with Qatar Airways… and comes at a significant time in the club's history, on and off the pitch.
"With a new stadium due to begin construction late this year and the team in the Champions League semi-final for the first time for 34 years, it's an exciting time to be a Roma fan.
He added that the club, third in Serie A, would "be proud to wear the Qatar Airways name on our shirts".
The deal will last until the end of the 2020-21 season, both parties announced.
Qatar Airways' boss, Akbar Al-Baker, said: "We are very pleased to announce this new partnership, which will see Qatar Airways become the official shirt sponsor of AS Roma through the 2020-21 season.
"AS Roma is one of the most successful and well-known football clubs in the world."
It is the first shirt sponsor Roma has had since 2012.
However, the deal is just the latest in an increasing line of sporting sponsorships announced by the state-owned Gulf airline.
Qatar Airways was the shirt sponsor for Barcelona — the team Roma knocked out in this year's Champions League quarter-finals — for three years, in a commercial agreement which ended in 2017.
That deal proved controversial among some Barcelona supporters because of Qatar's human rights record, particularly with regards to migrant labourers helping prepare for the 2022 World Cup in Doha.
Qatar Airways has also been criticised for its treatment of workers, notably by the International Labour Organisation for "discrimination" against female staff.
The airline is also one of the shirt sleeve sponsors on Bayern Munich's kit as well as the German giant's official airline.
Roma and Bayern could meet each other in this year's Champions League final, as the Germans play holders Real Madrid in the other last four match.
Qatar Airways also sponsors local club Al Sadd, whose captain is former Barcelona legend Xavi Hernandez, and will be a FIFA sponsor of the 2022 Qatar World Cup.
It has also ventured into other sports, including a sponsorship deal with Aussie Rules club, Sydney Swans.
The deal also emphasises the increasingly close commercial ties between Doha and Rome, including a deal last October for Qatar Airways to buy a 49 per cent stake in private airline Meridiana, which has now been rebranded as Air Italy.