Mba Boy replaces Don Waney
Nwike laments, Police grumble
Mutual suspicion, partisan emotions continue to compromise collective bargaining to save majority defenseless Rivers state populace from the pains of unending reign of cult violence and terror.
By Egufe Yafugborhi
Rivers state residents in Omoku and entire Ogba Ndoni and Egbema Local Government Area (ONELGA) are cheeringly enjoying new lease of peace, as sudden proactive runs of operations by security operatives provoked gradual extermination of Chief Johnson Igwedibia, a.k.a. Don Waney and key associates of his reign of terror which hitherto left several innocents murdered in that locality.
However, the development in ONELGA has not extended as much hope and sense of safety to residents in other high risk Rivers localities where criminals continue to visit, with impunity, terror on majority defenseless populace. Unless concerted efforts are made to check the trend, many fear that another Don Waney, perhaps more, are gradually rising in some of these other places.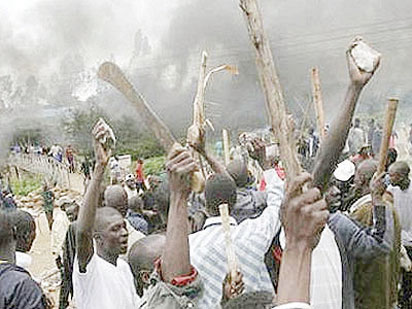 Wave of terror
Egbalor community, Eleme local government area, Rivers state, has been under siege in the last couple of weeks as Mba Joe, wanted cultist and kidnap kingpin relentlessly torments the people. Mba Joe, a.k.a. Mba Boy, is on wanted list of the Rivers state Police Command and that of Governor Nyesom Wike who placed a N20Million bounty on him among others in his recently released security watch list.
Paramount Ruler of Egbalor, HRH Godwin Chinwi, alleged that the terror gang leader has kidnapped five residents for ransom in the last couple of weeks and only days ago burnt the house of another victim, Eyina Ngechu for refusing to pay N200,000 gratification over a new car the victim acquired.
The worried Egbalor monarch said, "Sometime ago, Engr. S.N. Nwafolor was adopted in the middle of the night. I was one of those who went to the banks to get N10Million to pay as ransom, but they took the money and still killed him. This time around, we are experiencing a sophisticated level of same act. The approach now is If you don't give me what I want, I will burn your house. You have an option, either you give me millions or your house is burnt"
Narrating how the criminal gang tried to burn his family of seven inside his three bedroom home, Eyina Ngechu said, "They broke into my wife's shop and burnt everything inside. Then they said if I don't open my house for them, they will burn me and my family inside. They started burning my house. From my wife's bedroom, my room, parlour and dining, they were burning everywhere. My saving grace was the kitchen where we took cover. They had no entrance. If not for God's grace, they would have burnt my entire family, before soldiers came to our rescue around 2am."
Rivers state Commissioner of Police, CP Ahmed Zaki, in response to the situation said, "This guy is on our wanted list, he remains wanted and I appeal to any member of the public with useful information that can lead to his arrest to come forward. Any information given to us will be treated as utmost confidentiality". Zaki has further placed police's own N1Million bounty on Mba Joe.
Heads roll in Omerelu
In Omerelu, Ikwerre local government area, where cult attacks left five persons beheaded not long now, residents are calling on security authorities to establish a joint task force to restore law and order in the community as the unpredictable mayhem has left shops, schools, churches and all businesses and social activities shut. Residents have turned to refugees in their areas.
The community's traditional ruler said, "We don't sleep in the house. In fact from 7pm we sleep in the bush. Even in day time, those boys will come from the bush, shooting military types of gun.
"Those boys will come from the bush, If they see a dog, a goat, they will kill. A situation where they come to the market to confront traders and buyers. They meet you and say, give me money. If you hesitate they pull up their shirt to show the nuzzle of guns and you comply"
"Our women don't go to farm again, because they will ambush them, seize their bikes and handsets. Our young girls going to the farm are waylaid, dragged into hiding, beaten and raped. Those who put up resistant are sometimes killed. The situation has gotten out of hand"
Beyond Eleme and Omerelu, in Ajakaja, Andoni local government, unpredictable fatal cult invasions, kidnappings and clashes are equally common experiences that leave residents displaced and economic activities disrupted, aggravating hardship among the people.
Mutual suspicion
While the criminals enjoy impunity in the siege over the communities, key stakeholders who should arrest the situation delight in blame game, fueled by mutual suspicion.
Among the usual suspects who come under knocks for the prevailing security situation has been the security operatives. As the sudden marriage of operations among the Police, DSS and military operatives produced the succession of elimination of kingpins of the Waney terror empire, stakeholders have cheered in suspicion.
Some wonder if the security operatives suddenly acquired new policing techniques or the recent successes happened by strokes of luck. Others concluded that the prolong failure to avert the many lives Waney wasted before being shot dead was willful failure fueled by compromise or cheer negligence by security operatives. Yet others wonder why the Police, DSS and Military were yet to exercise same tactfulness in eliminating Waney to take out those terrorizing other localities.
Danjuma stokes Wike's suspicion
As Chief Security Officer in his state, Governor Nyesom Wike too has not hidden his suspicion and vote of no confidence in statutory security operatives in his domain. In the heat of the Omoku crisis, the governor shared his worries with visiting Interior Minister, Lt Gen Abdulrahman Danbazzau.
The governor told the visitor; "The security agencies have profiles of all cult kingpins in different parts of the state and they know their locations. There is no wisdom in the politicisation of security. You can never know the next victim of insecurity ".
"In every system, the security agencies know the flash-points. Here we requested for the strengthening of security around these flashpoints, especially areas with high prevalence of cultists. I expected that security would be beefed up in these places.
"I ask this question. Is there an orchestrated plan to tag Rivers State as unsafe? Is the situation above the security agencies despite the information we have made available to them?"
The governor's disenchantment with security operatives in the state was deepened by recent critical declaration by Gen. Theophilus Danjuma, charging Nigerians not to rely on the armed forces any more and begin to defend themselves against growing terrorism.
Swearing in four new judges at the Government House Port Harcourt, Wike again harped on security in Rivers being deliberately compromised by security agencies who, he alleged, work with All Progressives Congress, APC, to undermine security of lives and property.
He said, "I wasn't used to fasting, but I will fast for God to keep Gen Danjuma.  The General has said the obvious truth.  It is happening daily in Rivers State.  We are setting up our Neighbourhood Safety Corps, but they are generating crisis. We only replicated what is in existence in Lagos State, but nobody queries that of Lagos State.   Only recently, Nasarawa State launched her outfit, without being challenged"
Harcourt, the traditional ruler in currently troubled Egbalor, rather blamed governments, at all tiers in Rivers state, for not being proactive in nailing Mba Joe and his gang, saying that these stakeholders, beyond declaring the suspect wanted, have not made meaningful efforts at nailing him.
Abe cautions
For Sen. Magnus Abe, the security situation in Rivers is too deep-rooted that only serious efforts can save the situation.
"Don Waney has always been there. Everybody knew the danger he constituted, but some persons chose to protect and encourage him. When we all agreed to see it as bad, they caught him. If you create leadership without authority, you destroy society" he said.
At Andoni where he recently reached out with relief materials to residents internally displaced by cult violence, the Senator representing Rivers South East told the people, "The gunmen terrorizing the people are no strangers. They are your children, our own children, known to you people.
"If we want to help the youth, we must educate them to establish them in leadership. When you undermine merit to glorify a small boy because of how well he can shoot a gun or kill, people around him will lose hope in leadership", he further cautioned.
Wike recipe for improvement stirs fresh controversy
On top of the perceived compromises and stakeholders' failures in arresting the situation is the reality that there are not enough policemen to police the state or anywhere else in the nation. The overwhelming deployment of the already inadequate police force to do private guards for politicians, influential individuals and corporate bodies has aggravated that inadequacy.
Under the circumstance, Governor Wike had also taken some of the harshest of the knocks against perceived failure of his administration to rise to the occasion with every action or inaction. Coming out with a new Rivers State Neighbourhood Safety Corps Law No.8 of 2018 under this dilemma, the dissenting voices had been predictably resonant.
At the March 15 assent to the bill passed by the Rivers State House of Assembly, Wike also signed Rivers State Secret Cult and Similar Activities (Prohibition) (Amendment) Law No.6 of 2018 and the Rivers State Kidnap (Prohibition) (Amendment) No.2 Law No.7 of 2018. The governor followed a day later with appointment of Dr Uche Chukwuma, retired Assistant Commissioner of Police who holds  a Doctor of Philosophy (PhD) Degree as Acting Director-General of the expected Neighborhood Watch Corps.
Not many are opposed to the desirability of alternative security apparatus to arrest the insecurity in Rivers, but again, mutual suspicion came to the fore as the usual suspect, opposition River APC, led the rage of rejection to the new law. APC fears reside with reasoned propensity to abuse the part of the Neighborhood Watch law which provides for a state organized vigilante, licensed to bear arms, enter, search and arrest suspected criminals without warrant, working in concert with statutory security operatives.
Rivers APC, in a statement signed by its chairman, Chief Davies Ikanya, envisaged the intended Neighborhood Watch Corps as "Wike private army in disguise" and a call to violence in coming elections in the state. The party fears the security team is going to be deployed for political witch hunt.
Ikanya's statement, signed by Chief Eze Chukwuemeka Eze, his media consultant, noted that, "Considering the bloodletting that accompanied the 2015 general elections without this type of legally approved militia group, only God knows what we befall the state. This sinister bill that authorises the Neighbourhood Watch to carry arms, enter, search and arrest citizens without warrant is mischievous, diabolical, evil and unacceptable"
The governor has maintained that the new law adopts what is already existent in Lagos and other states in best interest of the people, adding that the worry by APC was in display of usually posture not to see anything good under his administration.
The Neighbourhood Watch Safety Corps, he emphasised, cannot work without approval of security agencies who will profile all the operatives, adding that the body will support existing security agencies with intelligence and information to effectively fight crime and make the state safer.
"If your hands are clean, you have nothing to fear about the laws. All criminals will face full weight of the law. We will  ensure the state  is safe for investors. If you are a cultist and you are caught, it is life imprisonment.  If you are  a cultist and you kill during cult activities, you will face the death penalty. If you are convicted of kidnapping and the Supreme Court affirms your conviction, I will sign the death warrant without looking back ", he declared.
Civil society divided too
Eugene Ode, Chairman, Progressive Lawyers Forum, said, "We vehemently express our displeasure over the purported Neighborhood Watch Corps. The law constitutes an abuse of the Constitution of the Federal Republic of Nigeria 1999 (as amended).
"Section 227 of the Constitution prohibits the establishment of any militia group or security outfits by the state other than those established by the Constitution. This law is capable of setting the constitutionally recognized security organizations in collision with the Neighborhood Corps of the state. This course will amount to proliferation of fire arms with it's attendant consequences.
"While we explore judicial process to set aside the law, we call on both the National Assembly and National Security Adviser to pay particular attention to what is unfolding in Rivers State the same way they are dealing with the Kogi State issue", Ode said.
Sotonye George, Chairman, Rivers state chapter of the Civil Liberties Organisation, CLO, said, "CLO has never gone against it. What we recommend is light arms, if the constitution permits it. They should work under police watch. The arms they will bear must be licensed by the police. They cannot forcefully carry arms. There are procedures to follow. So the police commissioner must formally issue those licenses.
"Police population is not enough to police our society. We need   complementary organization, and that is why we called for the neighborhood watch. The governor has assented to the bill, now it is a law. We advice everybody in Rivers to accept it. The law is obviously good for the people. It is protective and we should all support. Let them not bring politics into it. Not everybody belongs to a party. Security matters are above politics."
Rights and Justice Advocate, Annkio Briggs, said, "I believe Wike and his government will not use Neighbourhood Watch Corps to arm youths because he knows that will be against the law. The Governor is working for the people of Rivers and Neighbourhood Watch Corps will work with the nation's crime preventers because the Corps must work with the police.
"I will suggest to the opposition to the present Rivers state Government and civil society to keep an eye out and make sure the state government led by Wike does not step outside of the legitimate functions of this corps. It is in the better interest of the people and state and not to assume the worst because of politics"
Police neither here or there
At a recent gathering of police chiefs following Wike's signing of the controversial law, Inspector General of Police, Ibrahim Idris, had expressed dismay at hearing from the Rivers Commissioner of Police, Ahmed Zaki, that he wasn't carried along and his input not sought throughout the debate and signing of the law.
A law requiring a civilian group to bear arms, the IGP had stressed, must gain the approval of the police who have the responsibility to regulate the licensing of guns. Idris consequently charged Zaki to write Governor Wike on the police position on the matter.
The Police in Rivers, at a briefing at her Command Headquarters in Port Harcourt, confirmed the IGP directive, but consciously declined comments on how well it has been carried out.
"Let's leave that subject for now. You know there is a directive from the IGP and the CP is working on doing the needful", Nnamdi Omoni, Rivers Police Public Relations Officer, offered economically on the matter.
Subscribe for latest Videos