By Chidi Nkwopara
OWERRI—NIGERIAN women have been advised to stoutly resist the temptation of being used by overbearing politicians to achieve their selfish aims.
The Catholic Archbishop of Owerri Ecclesiastical Province, His Grace, Dr. Anthony J. V. Obinna who gave the advice while preaching during a concelebrated Mass at the Maria Assumpta Cathedral, Owerri, also pleaded with them to overcome their ever growing passion for fashion.
"Fashion, money and power are vanities, which will vanish one day. It is more important to take care of the soul than the body because when death comes, it shatters the human body", Obinna said.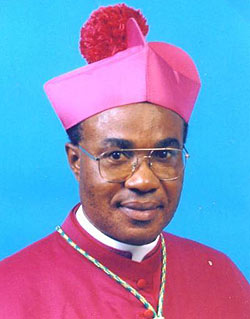 The Archbishop appealed to women to "be beautiful in the grace of God by keeping their bodies holy", adding that they should remain faithful to their husbands, "even when your husbands are not faithful".
While saying that some women commit adultery to pay their husbands in their own coins, Obinna however cautioned that the practice is completely wrong.
"This is completely wrong. You don't retaliate in sin for the sake of your soul. Everybody will die but not every soul will die", Obinna cautioned.