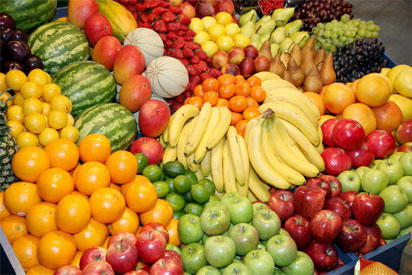 Fruits and their benefits
…say they cause cancer
By Levinus Nwabughiogu
ABUJA-Worried by the increased cases of cancer and other diseases in the country, members of the House of Representatives on Thursday urged the National Agency for Food and Drug Administration and Control (NAFDAC) to prosecute sellers of artificially ripen fruits.
The House also mandated NAFDAC and the National Orientation Agency (NOA) to carry out a massive public enlightenment campaign to sensitize members of the public on the harmful effects of such practice.
The House reached the decision after considering and adopting a motion sponsored by Hon. Edward Pwajok (Plateau-APC).
Moving the motion, Pwajok expressed worry over increased reported cases of ripening of fruits with chemicals in a bid to make inordinate profit.
He said that dealers forcefully ripe fruits such as mango, banana, plantain and oranges.
He said: "Some fruit dealers use a chemical, calcium carbide to ripen fruits because of the huge national demand for fruits, especially mango, banana, plantain and oranges.
"This act is reported to cause serious health problems because of their radioactive elements thus causing cancer".
According to him, "the application of the noxious chemicals is done by farmers or the fruit sellers without the knowledge of the buyers and consumers who take fruits because of its nutritional value."
Contributing to the debate, Hon. Emmanuel Orker-Jev (Benue) stressed the need to arrest and prosecute those involved in the practice.
"Imagine deceiving people to take what they don't want. Imagine consuming a chemical which is meant for welding and this is why cancer is in the increase.
"I have temporarily stopped buying fruits in Abuja because what is supposed to improve our health may even kill us. These unscrupulous people must be arrested and prosecuted because the lives of Nigerians are in danger.
"If I take alcohol or drugs for instance, it is understandable that it is done out of choice but the one that you are deceived into taking harmful chemical is unacceptable".
Ruling on the motion, the Speaker, Hon. Yakubu Dogara adhered to the prayer, mandating the Committees on Health Care Services and Legislative Compliance to ensure compliance to the resolutions.
The Committee was given 4 weeks to conclude its assignment for further legislative action.