By Evelyn Usman
The Lagos State Police Command has uncovered an illegal distillery, where fake malt drinks, stout and ethanol are produced, at Igba Afa community in Igbogbo Bayeku area of Ikorodu.
Five persons were arrested, while drums of finished malt and stout drinks waiting to be transferred to different parts of the country were recovered.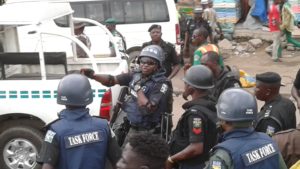 The illegal brewery is situated on an acre of land. To hide their activities, the perpetrators built a residential apartment in front of the factory.
The factory
The brewery is made up of five sections for the production processes. There were over 200 drums of 1,000 litre capacity positioned at each of the sections, besides others of 500, 200 and 100 litres capacity.
There were also two reservoirs, where the finished products were kept, pending when they will be loaded into trucks which take them to different parts of the country.
Some dead rats and reptiles were seen floating on the finished products, particularly inside the reservoirs.
It's dividend of community policing
Commissioner of Police, Lagos State Command, Imohimi Edgal, who led journalists round the illegal brewery, attributed the recovery to the dividend of the community policing initiative of the command.
He said: "You will recall that recently, an elderly man who was selling all sorts of fake drinks in Mushin was arrested.
"I am calling on Lagosians to be vigilant and to pass information, promptly, to their local Police, to ensure we identify places like this and destroy them because Lagosians can only be productive if they are healthy and most people who drink these things that are produced in unhygienic environment cannot be healthy.
"The place is not National Agency for Food and Drug Administration and Control, NAFDAC-certified and the operators are not qualified to do so. This means that they are giving Lagosians poison.
"What is most worrisome is that they are bottling and canning it as if they are produced by reputable companies that deal on the product.
"We are going to take samples of each of the various fake drinks being concocted here to NAFDAC and DNA labs."