By Samuel Oyadongha
YENAGOA—DEPUTY Governor of Bayelsa State, Rear Admiral Gboribiogha John-Jonah (retd), yesterday reiterated the need for Bayelsans and others resident in the state to pay their taxes, saying it was only then that they could hold the state government accountable.
According to him, the Restoration Government, headed by Governor Seriake Dickson believes strongly in accountability and good governance, hence it introduced the policy of transparency briefing where the state government publicly declares its revenue and expenditure profile on a monthly basis.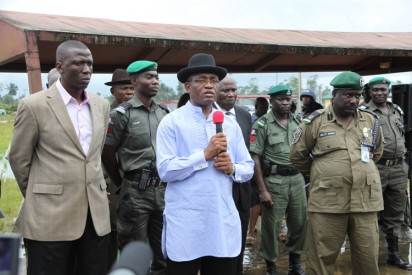 John-Jonah spoke  while declaring open the 2018 Yenagoa Mandatory Professional Training Programme entitled, Contemporary Issues in Transaction Taxes:Focus on Value Added Tax and Excise Duties.
That is the way we can assure the tax payer his money is well spent.
"We are trying our best. We took over government in 2012 when the monthly IGR was just about N50m, an indication that the state never felt it was an important asset.
"But now, the reality is  that any state that will survive must look at how legitimate taxes collected from individuals will assist in the projects government wants to embark upon.
"Allocation from the Federal Account is dwindling as the years go by and there is also the issue of saying there should be restructuring which means you have to look inwards."
"If there is any subject that should  be of serious interest to those of us providing service at the levels of state and federal, it must be a subject of taxation. Without the necessary funding requirement and provision, you cannot deliver any service."
He added that all tax payers in the state benefit from tax payments as 5 per cent of the IGR was remitted to accounts of both the school feeding programme and the health insurance scheme.