Vice-President, Prof.  Yemi Osinbajo,  SAN, Chief Justice of Nigeria, Justice Walter  Onnoghen,  CJN,  former President, Nigerian Bar Association,  NBA, Mr Olisa Agbakoba,  SAN, acting Chairman, Economic and Financial Crimes Commission,  EFCC, Mr Ibrahim Magu are among dignitaries expected at the three-day 5th NBA Criminal Justice Reform Conference holding in Asaba, Delta State from April 24-27.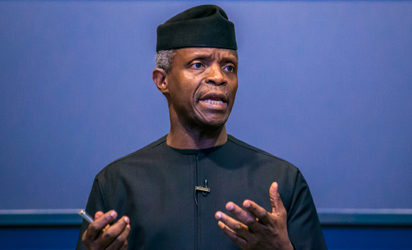 A statement by the NBA Administration of Criminal Justice Committee Chairman, Mr. Arthur Obi-Okafor,  SAN, said: "Prof. Osinbajo will present the keynote address at the showcase session that will examine Criminal Justice in Nigeria, the journey so far. Delta State Governor, Dr. Ifeanyi Okowa will present an address while the CJN, Senate President, Speaker of the House of Representatives, the Attorney-General and Commissioner for Justice, Delta State, Chief Judge, Delta State and the President, Customary Court of Appeal in the state will present goodwill massages.
"Former President of NBA, Mr. Joseph Daudu, SAN, will chair the first session of the conference that will focus on unlocking the innovations of criminal justice legislation in the country. The keynote speaker at the session  will be  the Chief Judge of the FCT, Justice Ishaq Bello.
"The second session which focuses on Arrest, remand and awaiting trial syndrome in criminal justice: fixing the jigsaw to end prison congestion, will be chaired by the Chief Judge of Delta State, Justice M. Umukoro. Former Delta State Deputy Governor, Prof. Amos Utuama is the lead speaker for this session.
"Day two of the conference will commence with break out session which will examine different perspectives of criminal justice administration in the country. Panel  A which will be facilited by Prof. Yemi Akinseye George,  SAN, will look at Administration of Criminal Justice Act 2015, ACJA  and time lines. Panel B. to be facilitated by Mr. Charles Ajuyah, SAN, will examine the ACJA and interlocutory proceedings, while Panel C to be facilitated by Mr. Akingbola Hanadeniran will look at Disclosure protocols under the ACJA.
"Former President of  NBA, Mr. Olisa Agbakoba, SAN, will chair the fourth session of the conference that will examine corruption, EFCC:  Special courts to the rescue. Lead speakers in this session include the acting Chairman of the EFCC, Ibrahim Magu and the Chairman of the Independent Corrupt Practices Commission,  ICPC, Prof. Bolaji Owasanoye, among others."