By Gabriel Enogholase
BENIN—EDO State chapter of Peoples Democratic Party, PDP, has said that it welcomed former Governor  Adams Oshiomhole's  call on President Muhammadu Buhari to be ruthless with looters of the country's treasury, but said that it wants the ruthlessness to be across all political parties and begin with himself.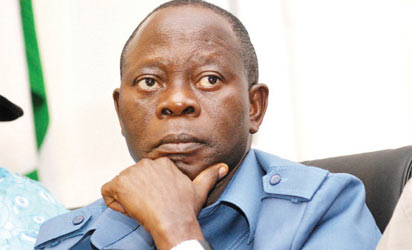 In a statement in Benin City, yesterday by the state Publicity Secretary of the PDP, Mr. Chris Nehikhare, the party said: "Edo people feel cheated that  Oshiomhole is still free almost two years after losing his immunity. However, Edo people deserve praise for tolerating and surviving eight years of Oshiomhole's anti-people government.
"Oshiomhole assumed office with so much promises and expectations. At the end, what was experienced by the people was disappointment, frustration and hardship.
"He shamelessly threw the state into debt. Today, the state is the third most indebted state in Nigeria. The state is far poorer than he met it and Oshiomhole is far richer than he was at the time he assumed office.  Oshiomhole's  government received well over N1 trillion from the Federation Account and borrowed over N300 billion even though he met a debt of only N4 billion on assumption of office in 2008.
"As governor, he used an average of N500 million as security vote for undisclosed and unknown "urgent security challenges."  Curiously, the same amount and the same narrative continued monthly for 48 months.
"He acquired property all over Benin City, Lagos, Abuja, Kaduna, United States of America and South Africa.  He denied the legislature and judiciary financial independence while he spent state resources recklessly,  chartered helicopters and private jets for his numerous trips to Iyamho and wasted our money on unproductive foreign trips. He awarded inflated contracts without due process, built a private university with state resources at an inflated cost and forcefully acquired land to build for himself the much talked about Mobutu Seseseko style ranch at Iyamho.
"Adams as governor built a ward in the already existing Central Hospital complex with up to N15 billion,  deceived President Buhari to come and commission it and almost two years after commissioning, the ward has been reduced to a den for reptiles and wild grass. It is ironic that Oshiomhole is not only freely walking the streets of Benin City, he is granting interviews and calling people looters."