By Dayo Johnson
AKURE— Ondo State capital, Akure, was grounded for several hours yesterday, as students of the Adekunle  Ajasin University, Akungba, Akoko, marched on the streets protesting the over 500 percent hike in their tuition fee.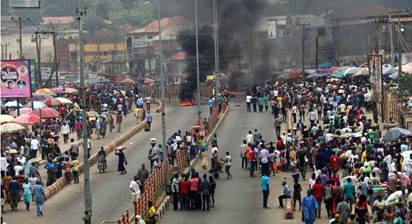 This is coming as the state House of Assembly dissociated itself from the increment of the tuition fee paid by the students.
Leaders of student unions in tertiary institutions across the state, namely National Association of Nigerian Students NAN, and National Association of Ondo State Students, NAOS, led hundreds of the students to the streets in the metropolis.
Thick smoke from bonfires billowed into the sky as the students barricaded Oyemekun Road, the only major road in the state capital.
Business and commercial activities remained paralysed for over six hours that the protest lasted. The student were later dispersed by the rains.
The students marched from Oba Adesida to Alagbaka causing gridlock.
Shops and departmental stores along the Oba-Adesida, Oyemekun, First Bank and Alagbaka were hurriedly shut to avoid looting by miscreants.
Some market women, who joined the protest, lashed out at the institution's Governing Council for the development and called for a reversal forthwith.
Security operatives led by the state Police commissioner,  Olugbenga Adeyanju,  and his deputy had hectic time controlling the hundreds of students,  who displayed various placards condemning the increment and calling on the government to reverse it for peace to return to the state.
Commissioner frees arrested students; lawmakers fault govt
Some policemen were injured as stones were hurled at them by the students after cannisters of teargas were shot to disperse them.
Vanguard gathered that some of the students, who were arrested, were later released on the order of the state's Commissioner of Police.
Unperturbed, the students,  who came prepared with their handkerchief soaked in kerosene,  continued their protest singing anti-government songs.
The tuition fee was N25,000 before it was increased to N200,000 last weekend by the institution governing council.
This development had attracted condemnation across the state from the students, their parents and other stakeholders across the state.
Meanwhile, the Speaker of the state House of Assembly, Bamidele Oloyelogun, and Chairman House Committee on lnformation,  Fatai Olotu, directed the institutions governing council to revert to the former fee.
They said that the governing council breached the agreement reached with the House of Assembly that before any increment will be announced they would be carried along.
They appealed to the people of the state and especially the parents and students of the institution to be calm as the crisis over the fee would be addressed.
The fees
However, the institution Head, Information, Protocol and Public Relations, Sola Imoru,  in a statement highlighted the new fees as follows:
"Faculties of Arts and Education: fresh students, N150,000,  returning students, N120,000; Faculties of Science, Agric, Social and Management Sciences: fresh students, N180,000, returning students, N150,000.
"Others include Faculty of Law: fresh students, N200,000, returning students, N150,000."