The Greater Tomorrow Children's Foundation (GTCF) has donated 20,000 textbooks to 40 schools in Delta State.
At a colourful and well attended ceremony held last week in Kwale, the GTCF, a charity-based body, founded by AFCON 1984 silver-medal winner, Paul Okoku, was able to actualise the donation through its partnership with Hon. Ossai Nicholas Ossai, representing  Ndokwa and Ukwani at the House of Representatives.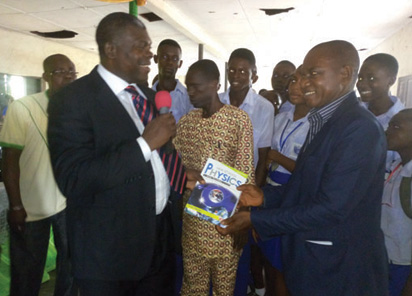 In what will go down as a landmark humanitarian efforts to have happened to school kids in Delta State this year, some of the books shipped into the country from the United States of America, were given to cheery pupils and students, who gleefully rejoiced over the free donations by GTCF.
The Greater Tomorrow Children's Foundation is a non-political charity-based body that is willing to partner with corporate bodies and individuals to improve the lives of  kids in the country.
The books, comprising Mathematics, English, Physics, Chemistry and story books were presented to the schools by the foundation.
The benefiting schools were selected from three local government areas, Ndokwa East, Ndokwa West and Kwale, accounting for equal representation in the sharing process.
Speaking during the event, graced by about 300 persons and former Eagles coach, Adegboye Onigbinde, ex-Green Eagles stars, Henry Nwosu, Tajudeen Disu, Baba Otu and Edema Fuludu, all of whom added colour and spiced up the occasion, Hon. Ossai Nicholas Ossai expressed his delight in being able to put smiles on the faces of school kids, through the free provision of important textbooks required for thorough academic impartation.
He said he was willing to support any project that would positively impact the lives of his constituents in Ndokwa and Ukwani.
"I believe this is just the beginning of many great things that we can do with the Greater Tomorrow Children's Foundation, who I must commend for their doggedness to make this donation a reality", said Hon. Ossai.
Also speaking, convener of the event, Paul Okoku, said the foundation would strive to make meaningful contributions to the lives of the less-privileged ones in the society.