By Nwafor Sunday
The former Secretary-General of Commonwealth, Chief Emeka Anyaoku, again restated the need for a true federal structure in the country, noting that no country with same cultural diversity in Nigeria will live under a unitary government.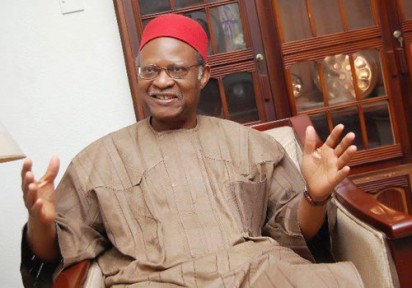 Anyaoku who spoke on Tuesday at the launch of an autobiography of elder statesman, Chief Ayo Adebanjo in Lagos, aligned his thoughts to late Obafemi Awolowo's believe that Nigeria will be a better place with a true federal system.
His statements read thus:
"Never been any doubt in my mind that our country Nigeria was doing extremely well when it had a true federation of four regions with each region developing at its own pace and its citizens feeling proud to belong to the bigger Nigeria country.
"I believe that if the military had not intervened in our governance in January 1966 and remained in power for so many years and if they had not disfigured our constitution.  And I used the word 'disfigured' because I do not believe that there is any country in the world that has the diversity that Nigeria has.
"Diversity of people who have lived for centuries in their geographic areas, who had their distinct and diverse cultural traditions. I don't believe there is anywhere in the world where a country with such diversity can live under a unitary government.
"So we do need in Nigeria, a true federal structure. And this was one of the abiding thoughts of Chief Obafemi Awolowo advocated throughout his life", he said.
Watch the video below:
Subscribe for latest Videos