…to save $300m from import substitution, local processing.
By Gabriel Ewepu
ABUJA- FOLLOWING efforts to boost food security by the Federal Government, the nation's rice sub-sector will attract N250 billion investment based high paddy rice production and increased milling capacity.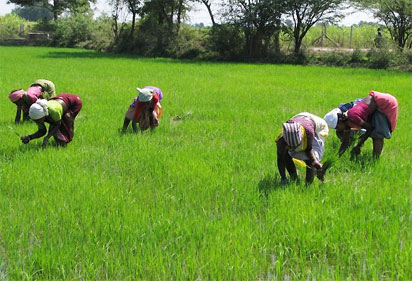 This was disclosed by the Minister of Agriculture, Chief Audu Ogbeh, during a Rice Conference organised by AgroNigeria, Wednesday, in Abuja.
Ogbeh who was represented by the Director, Agribusiness, Processing and Marketing, Muyiwa Azeez, also stated that home-grown international grade rice can be found across Nigerian markets and a total of 14 mills will soon come on board.
According to him there are presently 21 large integrated rice mills with a total processing capacity of 1.22 million metric tonnes annually, which spread across the country including Kano, Enugu, Ebonyi, Kebbi, Anambra, Edo, Nasarawa, Benue, Kwara, Jigawa, Niger and Kogi States, which the integrated rice mills have also employed about 2 million unskilled workers.
He said: "Today, several integrated local rice mills have their milled rice in the Nigerian market and consumer demand and preference for local rice has risen due to better quality and taste compared to imported rice. Home-grown international grade rice can be found across Nigerian markets and a total of 14 mills will soon come on board.
"Members of Rice Producers Association of Nigeria, RIFAN, currently have a direct workforce of 5,000 skilled Nigerians including women as off-takers of rice paddy, and as created jobs for over 5 million rice farmers out of the existing 11 million rice farmers in Nigeria.
"The integrated rice mills have also employed about two million unskilled workers. Nigeria's rice import bill has dropped appreciably by over 90 per cent. Presently we have 21 large-scale mills with a capacity with a capacity of 1.2 million MT, while additional mills are springing up."
In his assertion, he said in the past three years, paddy production had experienced exponential growth, recording 6.9 million metric tonnes in 2016, which represented 4.14 million metric tonnes of milled rice, while 8.019 million metric tonnes, representing 4.81 million metric tonnes of milled rice in 2017.
"Estimated crop area of rice in 2017 was 3.9 million hectares, which represent an increase of about 6.9 per cent over the 3.17 million hectares cultivated in 2016. All the states of the federation recorded an increase in rice production, with Kebbi and Lagos having the highest increase. Over the last three years, we have recorded increase in production from an average of 2.5 tonnes to five tonnes per hectare", he said.
According to the Minister on per capita consumption, Nigeria's demand for rice stands at 9.5 million million tonnes of rice paddy, representing 6.8 million metric tonnes of milled rice, which the deficit which used to stand at between three to four million metric tonnes had been reduced to 1.99 million metric tonnes
He said to sustain the tempo of the current growth in the subsector government would continue to ensure that investors were given the enabling environment to operate.
"Government would continue to provide conducive environment to rice farmers and millers in the area of ensuring adequate agro-chemicals, fertilisers, land development and irrigation facilities, mechanisation, modern extension services, power supply, access to good roads, farmlands and favourable pricing. Essentially, forestalling the illegal activities of smugglers across Nigeria's borders remain a priority", he stated.
In his earlier remarks, the Governor of Kebbi State, who also doubles as Chairman, Presidential Initiative on Rice, Abubakar Bagudu, said operators in the rice value chain cost of rice production in countries Nigeria competes with remains cheaper.
"Operators in the rice value chain must appreciate the fact that the cost of production in countries we are competing with is cheaper than the production cost for the same commodity in Nigeria. This needs to be addressed in order to ensure sustainability", Bagudu said.