By John Mkom
Jalingo—CHAIRMAN of Taraba State Council of Chiefs, the Aku Uka of Wukari, Dr. Shekarau Angyu Masa Ibi, Kuvyo II, yesterday, said Nigerians have lost confidence in the Military following alleged connivance with herdsmen and other bandits to unleash mayhem on innocent citizens.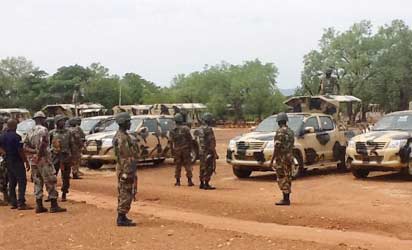 Dr. Ibi spoke when he received the Army Probe Panel investigating allegations of military collusion with armed bandits in Taraba and other parts of the country.
The monarch, who thanked the military leadership for setting up the panel, noted that "it is a known fact that Nigerians have lost confidence in the military in spite of their track records of successful peace missions in other parts of the world.
"I want to remind members of the panel that Nigerians, who are crying for justice, are expecting much from you. Nigerians expect you to be just and fair in your assignment and only a fair, just and transparent report of your panel can restore the lost image of the military."
Traditional Council's stance
Presenting the position of Wukari Traditional Council before the panel, the Adviser to Aku Uka on Media and Legal Affairs, Danjuma Adamu, said the expectations of the people of the area from Exercise Ayem Akpatuma had not been met, as attacks and killings were still ongoing.
Chairman of Wukari Local Government, Daniel Adi, in his submission, enjoined the panel to check with the Police Area Command in Wukari for some of the case files involving military personnel in aiding movements of the attackers.
We're independent—Panel
Earlier, Chairman of the Probe Panel, Maj. Gen. Joseph Nimyel (retd), sympathised with the Aku Uka over the loss of lives and destruction of properties as a result of series of crises in the area.
He informed the monarch that they were in the state as an independent panel to investigate allegations of collusion levelled against the Military.
Nimyel added that the panel will report its findings to Army Headquarters in Abuja, Taraba State Government and Federal Government with a view to helping the authorities in their future dealings.