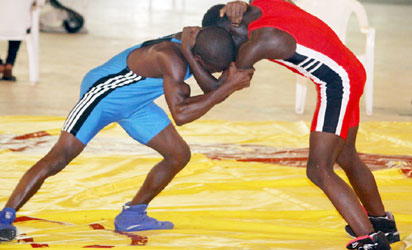 Wrestlers size each other during a bout.
By Solomon Nwoke
After their impressive outing at the recently concluded Commonwealth Games in Australia, the Nigeria Wrestling Federation (NWF) has been invited by their French counterparts to be part of a- one -day test-match that will see wrestlers from both countries sweat it out on the mat later this year.
The one-day event scheduled for Thursday, December 20, 2018 will be staged at the prestigious Cirque d'hiver in Paris, the mythical place of French sport.
Nine Nigerian wrestlers; three in Freestyle, three in Greco Roman and three in Women Wrestling are expected to battle their French opposition in the course of the event.
In an invitation letter sent to the NWF, the French Wrestling Federation also promised to take care of the logistics of the Nigerian delegation, which will comprise of 9 athletes, 3 coaches, 2 officials and a referee.
The Nigerian athletes will also be in Paris for a week, and are expected to be part of an internship arrangement, the organisers stated in the invitation letter: "We are happy to invite you once again for a promotional event of an evening of wrestling. Your athletes will be able to share sports internship with our team from France at INSEP de Paris, and we invite you for a week at this Olympic establishment – the showcase of French sports."
The NWF earlier this year received a similar invitation from the United States Wrestling Federation to participate in the Beat The Streets Competition in New York next month.