….Less than 24% of infants breastfed exclusively
….Educated mothers breastfeed their babies more
….Improper feeding accounts for 40% of child deaths
By Sola Ogundipe & Chioma Obinna
Efforts to checkmate the rising cases of infant and child malnutrition across Nigeria are yet to achieve the goal.
Indicators reveal that  although gradual progress is being made towards the goal, much remains to be done as indicators show that  many Nigerian mothers are yet to understand the primary role of exclusive breastfeeding within the  first six months of life in the bid to break the vicious cycle of malnutrition and poverty in the country.
According to the 2016- 2017 Multiple Indicator Cluster Survey 2016/17, MICS, Nigeria's breastfeeding rate remains low overall with only 23.7 per cent of babies born in the country being breastfed exclusively.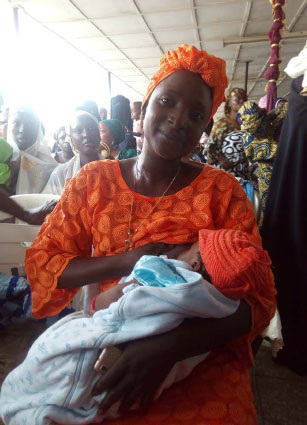 It would be recalled that the World Health Organisation, WHO, and the United Nations Children's Fund, UNICEF, recommend that infants should be breastfed within one hour of birth.
WHO and UNICEF also say infants should be breastfed exclusively for the first six months of life and be breastfed continuously for up to two years of age and beyond.
Based on the 2016/17 MICS, women in Northern Nigeria rank lowest in breastfeeding their children exclusively while women in the South-West zone lead in exclusive breastfeeding.
Health watchers are of the view that although the percentage of mothers exclusively breastfeeding their babies aged under six months, increased from 15.1 per cent to 23.7 per cent, it remains a major crack in the country's efforts to stop malnutrition in children.
South-West leads
A further breakdown of the MICS showed that the South-West has the highest number of exclusively breastfed children with 43.9 per cent and 70.5 per cent predominantly breastfed while the North-West zone has the lowest number of children breastfed exclusively with only 18.5 per cent. About 56.6 per cent were predominantly breastfed.
The South-South zone followed with 27.2 per cent and 52.5 per cent exclusively and  predominantly breastfed; South-East, 25.3 per cent and 47.8 per cent exclusively/predominantly breastfed; North-Central, 24.9 per cent and 45.8 per cent; North-East, 21.3 per cent and 50.4 per cent respectively.
The survey also found that out of the 60 per cent child deaths attributed directly and indirectly to undernutrition, two thirds of child deaths have been attributed to improper feeding during the first year of existence.
A comparative analysis of data from the MICS, conducted in 2007, 2011 and 2016/17, revealed that exclusive breastfeeding under six months has gradually improved consistently over the years in all states in the South- West zone and Edo State.
In a presentation entitled: The  Situation of Children & Women in South-West States based on MICS data in the last 10 years (2007 – 2017), UNICEF's Planning, Monitoring & Evaluation,  Specialist, Mr Niyi Olaleye, observed that  exclusive breastfeeding is positively related with mother's education, wealth status and is now practised more in urban areas.
According to Olaleye, data from the MICS showed that in the South- West zone, Ogun and Ondo states recorded the lowest rates over the years while Osun recorded the most improvement rising from 12.5 per cent in 2007, 40.7 per cent (2011) to 55.3 per cent (2016/17).
In the South-West zone, according to the 2016/17 MICS, the average rate of infants under six months old who are exclusively breastfed is 43.9 per cent, with the highest rate occurring in Lagos at 51.8 per cent, and lowest in Ondo at 23.5 per cent.
From the 2007 and 2011 MICS, average rates of infants under six months old exclusively breastfed were 17.1 per cent, and 27.0 per cent, respectively. Rates for  Lagos were 20.0 per cent (2007) and 28.1 per cent (2011), while corresponding rates for Ondo were 14.3 per cent, (2007) and 8.6  per cent (2011).
Quoting the MICS, Olaleye said more women with a live birth in the last two years across the South- West zone are putting their last newborn to the breast within one hour of birth, especially in Ogun. He said early initiation of breastfeeding is practised more in Edo and improved consistently in Ondo.
WHO recommendation
According to the WHO, breastfeeding is vital to a child's lifelong health and reduces costs for health facilities, families, and governments. Breastfeeding within the first hour of birth protects newborn babies from infections and saves lives.
WHO maintains that infants are at greater risk of death due to diarrhoea and other infections when they are only partially breastfed or not breastfed at all.
Breastfeeding also improves IQ, school readiness and attendance, and is associated with higher income in adult life. It also reduces the risk of breast cancer in the mother.
The world health body also found that breastfeeding all babies for the first two years would save the lives of more than 820,000 children under age five annually.
In the views of  UNICEF Evaluation expert, Maureen Zubie-Okolo, during a media dialogue on MICS 5 2017 and Data- Driven Reporting, education is one of the most important tool in encouraging and promoting the campaign for 100 per cent attainment of exclusive breastfeeding by all mothers in Nigeria.
She said a key finding in the survey showed that 41.0 per cent of children under five in the country were exclusively breastfed by mothers who had attained one form of higher education or the other.
Zubie-Okolo said the survey found that 30.6 per centof the children were exclusively breastfed by mothers who completed their secondary school education, 20.8 per cent was attributed to mothers who only attended primary school, 16.9 per cent of the children were born to women who had non-formal education and 19.6 per cent were breastfed by mothers who had no access to any form of education.
She noted that a mother's education has a great impact on the nutritional status of the child, as children born by mothers who were either unable to attain any form of education or only had access to lower education, were the ones mostly faced with issues of malnutrition.
"The survey proves that with more number of educated mothers in the country, the higher the chances of an increased percentage of children exclusively breastfed as a result of access to adequate information and a better understanding of the benefits of feeding a child with only breast milk within the first six months after birth.
She said exclusive breastfeeding is key to fighting child malnutrition as it is more resilient in fighting malnutrition.
What breastfeeding is
UNICEF Nutrition Specialist, Mrs. Ada Ezeogu said breastfeeding simply means feeding of an infant or young child with breast milk rather than using infant formula or any other milk from baby bottle while exclusive breastfeeding means giving the baby only breast milk for the first six months of his life without water or any form of liquid.
Ezeogu regretted that achieving exclusive breastfeeding has remained a challenge in the country because of the practice of adding water to breastfeeding. "Most parents see breast like any other food that you eat and drink water at the end but the breast milk has enough water to meet the needs of the child. It contains all the nutrients that a child needs to grow and survive and, in fact, over 88 per cent of the breast milk is water.   So you don't need to add any water for the baby, otherwise, you will be taking the space of the nutrients from the milk in the baby's stomach."
She encouraged mothers to ensure that babies that are less than six months do not take water, adding that, "if you give water, the baby will not be able to get sufficient milk and nutrient requirements and he will be malnourished.
"In addition to water, breast milk contains nutrients such as protein, vitamins, iron, minerals and fats, etc. What stands breast milk out? Of the eight major preventive interventions for child development and survival, analysis showed that exclusive breastfeeding has the most impact.
Ezeogu who noted that breastfeeding alone could contribute 13 per cent reduction in child mortality, added that breastfeeding is at the very top of interventions for child survival.
"Babies who are exclusively breastfed for the first six months of their lives have lower risk of respiratory infection, urinary tract infections, ear infections (acute otitis media), fewer bouts of diarrhoea and sudden infant death syndrome. Sudden infant death is unexplainable death of children.
"Breastfeeding also protects the baby from chronic diseases such as obesity and diabetes mellitus. Also, the breast milk contains antibodies  that are transferred to the baby. The benefits are not only pronounced in childhood but also in adulthood. It has been proven that children that are exclusively breastfed has higher IQ than those not breastfed. The longer you breastfeed the child, the less chances of his suffering from depression and attention issues when he becomes an adult."