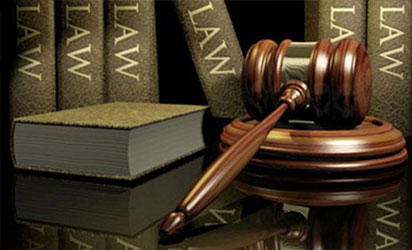 Judicial symbol for justice
By Ayo Onikoyi
Ebosie Jideofor John, a Nigerian national has obtained a judgement against, an international airline, Etihad Airline.
In the case before Honourable Justice Hadiza R Shagari, the plaintiffs were ably represented by Pius E Sodjie and Pekun Sowole of Jurislaw Chambers while the defendant, Etihad Airline, was represented by J.M.M Majiyagbe.
It was said that Ebosie had purchased four economy class tickets for his family members namely Ms Sylvia U Obichie, Amaka Fingesi, Taribo Fingesi and Zoila Fingesi for a trip from Murtala Mohammed International Airport, Lagos to Abu Dhabi International Airport on May 15, 2014, on flight EY 0674. Ebosie bought the four e-tickets using his credit card.
Due to no fault of Ebosie, his credit card could not be verified by the airline at its Victoria Island, Lagos office due to network failure and he made available coloured photocopy of his credit card and his driver's license to ensure his family members were able to make the trip but they were denied boarding by staff of the airline but told to return the following day, May 16.
The plaintiffs eventually boarded the plane on the new date given but were yet unable to make the flight as it was cancelled due to engine failure. They later settled for buying tickets and boarded another airline to make their planned holiday on that same day of May 16, 2014.
The plaintiffs later went on to sue Etihad Airline for trauma, losses, and damages since it is the general rule that a carrier or an airline liabilities to its passengers or customers could arise as a result of:
a) Injury sustained on board an aircraft or
b) Death arising from the case of a journey or
c) Damage or loss of goods or
d) Delayed or denied board or
e) Infractions in the case of preparing for or the actual conduct of flight operation under the aviation law.
And since if a passenger buys an air ticket, there is a contract binding between the customer and the airline, the case went in favour of Ebosie.
In her judgment, Justice Hadiza R Shagari ruled in favour of the plaintiffs and charged Etihad Airline. She said: "It is in my view to state that the defendant airline is guilty of willful misconduct….. I grant the claims of the 1st, 2nd, 3rd, 4th and 5th plaintiffs for a full refund of their defendant airline tickets with interest at 16% rate as it was decided in the case of Farasco Nigeria Limited & Anor Vs Peterson Zochionis Industries Plc (2010) LPELR 4142 CA. Per Tine Tur JCA stated that the principle of interest is that it's not a compensation for damages caused by the defendants but for being kept out of money which ought to have been paid all this while for services not rendered.