By Isaac Ikpa
Every day, we spare time to pray for our beloved ones, mostly family members. Once in a while, we find time to express appreciation to a boss, who perhaps offered us a job and we say thank you to a medical doctor for a successful surgical operation even though we foot the bills.
We excitedly send gifts to a high profile government official for offering us a multi-billion contract, and to a Good Samaritan who does something as little as helping us to retrace a lost path in a strange land.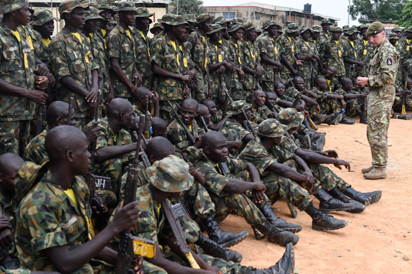 That's the positive side of nature and its interdependence. It means, no one is an Island to himself and all of us, as individuals or groups play complementary roles to spice existence. Appreciation for a good deed extended to anyone has a magic. It spurs more action and blends a relationship in much deeper ties. It elicits compassion and the desire to stretch further.
Needless to say, everyone and profession is important. The bricklayer, the engineer, the architect, the lawyer, the soldier and so forth. They are competitively crucial in defining the comforts and discomforts inherent in life.
As a Nigerian,  I have come to realize that while our people are cultured in the act of appreciation, they have observed  unhealthy reservations on the soldier. I go to church every Sunday and hear special mass requests of prayers for the protection, good health and prosperity of different people.
But strangely, I have never heard any Nigerian in the places I worship requesting special mass and prayers for Nigerian soldiers, who are currently in the warfront. These professionals have chosen to deprive themselves of all the niceties of life to ensure we live in peace. They have elected upon themselves to ensure the territorial integrity and sovereignty of our dear country, Nigeria is protected from external aggressors.
Soldiers sleep in the cold, while we sleep in the comfort of our bedrooms; in the warfront, soldiers have no special diet; but we eat whatever we want; some on special assignments are estranged from their families for months and possibly years.
Every day, a soldier's life is in permanent danger.  Some of them die, in the course of defending us so that we can live in peace and a secured environment. These are duties they discharge with loyalty and patriotism to fatherland, as the only motivating weapons.
But none of us has ever felt compelled to remember this special category of professionals, who are consigned to this humanitarian job. We deliberately withhold appreciation to them for the arduous and selfless service they render to us.  And for the perpetual deviants and cynics, an average Nigerian soldier is a symbol of hatred and sneer.
We only remember soldiers in times of our personal travails or when tribulations exceed tolerable limits and threaten our lives, like the scourge of terrorism. When there is conflagration in any part of the country that's the only time, we think of soldiers to quell the fire.
  I can still recall the loud voices of wailings, each time terrorists struck in the recent past. That was when terrorism climaxed in Nigeria. The cursed devils massively killed daily and we were helpless.
Nigerians frolicked in fear, especially in the Northern part of the country when Boko Haram terrorists held us at the jugular. Some relocated to other parts of Nigeria they assumed safer.  We dreaded our shadows anywhere in Abuja, Kaduna, Kano, Niger, Borno, Adamawa, Yobe and multiple other states. We cried out loud for salvation with eyes watered by the tears of pain.
Yet, today, a repositioned and re-professionalized Nigerian Army has lifted this burden off our heads.  The Chief of Army Staff (COAS) and ombudsman of the anti-terrorism operations in Nigeria, Lt. Gen. Tukur Yusufu Buratai has terminated this brutal reign of terror by leading troops to sleep in trenches in the jungles, caves  and forests. They have confronted insurgents to restore our human dignity and uphold the sanctity of our lives.
Much more, the Nigerian Army has confronted various acts of terrorism and insurrections which burdened our lives in different parts of the country.  It would be worthwhile if we remember that soldiers spend days under the scotching heat and nights in darkness, while we frisk under illuminating street lights in cities and towns.
Very many of them have paid the supreme price of death on the battlefield, by engaging armed gangs. They have not allowed local conflicts, sponsored by aliens to mock our humanity and trample on our liberties as independent people.
It baffles that these band of selfless, hardworking, loyal and Christ-like professionals are forgotten by us in their bowels of patriotic service to nationhood. Quite demeaning, most of us prefer to think soldiers are not entitled to anything good.
We feel their lives are confined to the fate of the trenches. We don't bother to think they are human beings like us; breathe like us; have stomachs to eat good food like us or tongues good enough to drink hygienic water like we do in our homes and offices. This is quite callous.
As if the neglect of soldiers in our consciousness is not enough. Some of us enlist in the herd of those influenced by foreign forces to fabricate malicious campaigns' to tarnish the reputation and image of the Nigerian Army. We become conveyors of messages that tend to denigrate and demean the institution of the Nigerian Army. We hardly remember the grandeur sacrifices they make to keep us and our country in peace and unity. This is unpatriotic to say, the least.
But time has come for us to change this distasteful perception of the Nigerian Army. We can only justify the humanity in us by changing this negative and discreditable perception of the Nigerian Army.  It's odd for us to celebrate when Boko Haram terrorists gun down a soldier in combat; but we preach human rights abuse and extra-judicial killings when a soldier sniffs life out of a terrorist on the battlefield.
We must understand that a day without soldiers on the streets or communities in Nigeria would shut down the entire country in lawlessness and bile armed conflicts.  We savour peace today because of their enormous contributions and commitment to the project of a peaceful, secured and united Nigeria.
Thus, it will not be out of place to once in a while show appreciation for the great job soldiers are performing. We should not wait to only celebrate fallen on Armed Forces Remembrance Day. Those still alive and in active service deserve our prayers for protection, wisdom and good health to continue to perform the work of our sentinels perfectly.
A visit  to a military barracks; warm pleasantries to soldiers we meet at checkpoints; remembering soldiers and their families in our prayers and defending them in absentia  against malicious  persecution would not be too much a burden to us in appreciation of their priceless work.
Ikpa is the Executive Secretary, Centre for Social Justice, Equity and Transparency and contributed this piece from Abuja.