The Nigerian Air Force on Wednesday in Kaduna empowered 200 youths in fish farming under the aegis of Barracks Youth Employment through Agriculture (BYETA).
Speaking at the event, AVM Mohammed Idris, Air Officer Commanding Air Training Command, Kaduna, said BYETA was initiated in 2016 by the Chief of Air Staff, Air Marshal, Sadique Abubakar to curb social vices and youth restiveness in various NAF bases.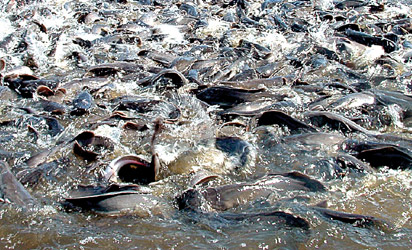 Idris said BYETA is an agricultural empowerment scheme to empower youth economically, adding that it was also "aimed at promoting agriculture and employment among the youths in line with the Federal Government Green Alternative Agenda.
"Today's ceremony is an additional drive of the NAF leadership's resolve to develop the capacity of personnel and our children and also to give high priority to their welfare."
Idris said the initiative would be self-sustaining through cooperative groups, income-generating and production of food.
He explained that the scheme is focused on four key areas including fishery, poultry, animal husbandry and crop production, saying that participants are registered under four cooperative societies.
"These include youth crop farmer's cooperative society, youth fish farmers, youth poultry farmers, livestock farmer's cooperative society.
The AOC advised the beneficiaries to be open minded to enable them to learn and undertake the venture with seriousness and dedication.
"Equally we shall continue to explore other agricultural supports from government agencies and corporate farmers for various forms of assistance in terms of loans, seedlings, implements, feeds and any other support available," he said.
NAN