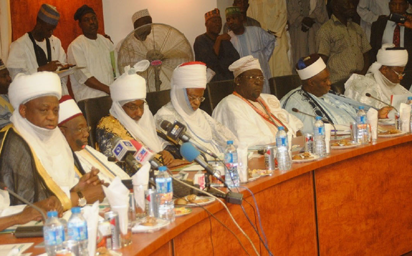 Cross-section of Northern Traditional Rulers, at the meeting between the Northern Governors and Traditional Rulers in Kaduna State on Thursday (27/7/17).
By Gambo Dori
The month of April is a month of life changing events for my State of Kano, and in a way for the larger Nigerian nation. In April, Malam Aminu Kano and his political son, Muhammadu Abubakar Rimi, two of our most prominent politicians passed on to the Great Beyond — Rimi on 4th April 2010, 27 years after Aminu Kano whodied 17th April 1983.
To keep his memory alive, Bayero University's Aminu Kano Centre for Democratic Research and Training (CDRT), Mambaiya was established in hi's honour by IBB at Late Aminu Kano's Gwammaja residence, in the old city.
Since take-off in 2001, the Aminu Kano Centre has held commemorative lectures on the 17th of April. The 17th Annual Symposium to mark the late politician's 35th memorial anniversaryheld at the Centre's Saadu Zungur Auditorium. Saadu Zungur was one of Malam's progressive contemporaries from Bauchi, at the forefront of the anticolonial struggle for independence.
17th Annual Symposium: Democratic Governance and Party Ideology, Supremacy
The symposium, themed "Democratic Governance in Nigeria and the Imperatives of Party Ideology and Supremacy" took lead papers from chairman of ARDP (Arewa Research and Development Project) Dr. Usman Bugaje and Dapo Olorunyomi, publisher of Premium Times. Radical Kano PRP scholar and politician, Dr. Auwalu Anwar added colour as discussant of the papers.
Tinubu, Bugaje, Dapo & Anwar speak as one
Tinubu, Bugaje, Olorunyomi, Anwar and all who spoke at the occasion were as one, on deterioration of the practice of politics in Nigeria. Despite Aminu Kano and his example that has had believers and adherents of his vision come together every year,  all the talk of returning power to the people has been just that, talk. All the cries of emancipation of Talakawa have made no difference to the disposition of politicians since Malam left the scene, and since his PRP government in Kano and Kaduna under Muhammadu Abubakar Rimi and Balarabe Musa respectively.
Balarabe Musa keeps PRP alive
Balarabe Musa, the Kaduna PRP Governor was at the memorial, and since the opportunity provided itself he has kept PRP on the front-burner, reviving and revving it up as best he could and holding it and onto it, probably as a possible fall-back option when all other efforts have been tried, tested and failed. Tinubu through Ajimobi, Bugaje and Olorunyomi all expressed exception to the anti-people democracy going on even when we keep casting back to the idealised Aminu Kano days.
Sule Lamido speaks to the point
Sule Lamido is a true son of PRP. He was Foreign Affairs Minister and the Jigawa governor who gave the state its current brand and face in his eventful eight years, setting up all its sparkling modern infrastructure. He is a frontline PDP presidential candidate for 2019. Lamido, of the radical Rimi/Imoudu Santsi PRP was youthful House of Reps member from Birnin Kudu in 1979/'83.
His brief remarks at the memorial spoke to the point — that rather than mere lip service, we should all walk the talk; that the many ideas that Aminu Kano's NEPU and PRP fired should be given life by those who claim any affinity to Late Malam Aminu Kano's vision of PRP. On democracy, Tinubu slammed political parties for stifling it. His thesis points to governors in the executive since 1999 as principal culprits.
Aminu Kano, PRP, Rimi & Change
Rimi is heir to Malam Aminu Kano's politics of Democratic Humanism and Change. Earlier this month we sang and danced over the good things we remember Rimi for, as Governor of Kano, translating the vision of his Teacher and Mentor, NEPU and PRP leader, the Father of Talaka Politics, Malam Aminu Kano in practical terms. The progressive people's based political ideals of Aminu Kano-led PRP which grew from the radical NEPU tradition is the leading political tendency in Kano and indeed amongst most of the commoners in the cities and of course the rural areas of the North.
Aminu Kano and NEPU/PRP's radical views railing against the iniquities in the Emirate system was what gave him profile and drew us all to what he preached. The PRP government of Rimi broke the back of the conservative traditionalist system using Jangali and Haraji, poll and cattle taxes as tools of control and oppression the very first day Rimi was sworn in as Governor. The same pronouncement was made on the said oppressive taxes in Kaduna by PRP's Balarabe Musa. Working to liberalise access to land resources, then largely controlled by the traditional authorities and their agents, the Rimi PRP Government had its first baptism by fire when a contrived demonstration supported by the NPN led to arson to bring the government to heel on July 10th, 1981.
Dr. Bala butchered, roasted to stop PRP
Dr. Bala Muhammad was mercilesly butchered and roasted in his home. Most state government property including the official residence of the State Governor on Sokoto Road got vandalised by the arsonists under the watchful eyes and escort of the police, in full public glare as recorded by the local NTA.
According to sources in the Rimi PRP, Dr. Bala Muhammad was roasted to stop the white paper. The state Ministry of Lands was torched and valuable documents and records vandalised and destroyed.
The previous year, 1980, Maitatsine, Boko Haram's ancestor was let loose on Kano, and the federal forces failed or refused to curb it until it got to an intolerable level. That carefree NPN political approach to security issues is the principal culprit for yandaba thuggery and yanbanga, the violent political party vanguard still with us.
Time for PRP politics again?
They must all be wondering whether it was now time to take a shot at getting back the party of the people, now that all else has failed. Even the massive popularity of General Buhari in Kano has a lot to do with the perception he enjoys as a spartan PRP-type politician. And like Director of Mambaiya Aminu Kano Centre, Professor Haruna Wakili wailed, it was time to start actualising Aminu Kano's ideals. It is time to try even the littlest of what Malam Aminu Kano did.
Malam was a man who had been all he could be but died leaving only the skeletal Mambaiya residence, around which the centre was conceived, his desolate farm house at Sharada and only 200 Naira in the pockets of one of the four sets of dresses he had at death, a practise he maintained by choice all his life. How many politicians today can come anywhere near this? So, is it time? When will it be time for the PRP type politics of Malam Aminu Kano? When?