Jose Mourinho said he hoped old rival Arsene Wenger remained in football after the Frenchman announced Friday he would end his 22-year reign as Arsenal manager at the end of the season.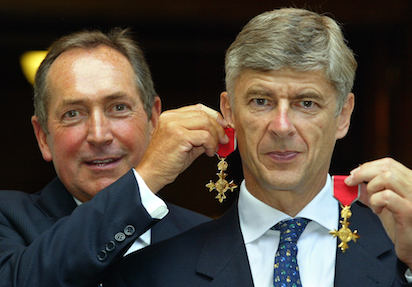 Manchester United boss Mourinho has had repeated run-ins with Wenger during his time in England, notably as manager of Arsenal's London rivals Chelsea.
Mourinho even once went as far to label Wenger a "specialist in failure" given the last of his three Premier League titles with Arsenal was back in 2004.
But the early years of the 68-year-old Frenchman's reign at Arsenal saw the north London club emerge as the main challengers to the successful United side built by outstanding manager Alex Ferguson.
"If he's happy, I'm happy. If he's sad, I'm sad," said Mourinho of Wenger's decision to leave Arsenal during a news conference ahead of United's FA Cup semi-final against Tottenham Hotspur at Wembley on Saturday.
"If he looks forward to the next chapter of his career and his life, I'm really happy for him," added the Portuguese.
"I'm pretty sure we as a club — especially because Mr Wenger and Arsenal were for many, many years the biggest rivals of Sir Alex's era — I'm pretty sure we as a club will show Mr Wenger the respect that he deserves."
Mourinho, asked if he regretted any of his previous bust-ups with Wenger, insisted: "It's not about regretting. I think your question is a typical question from somebody that was not in this side.
"You were not a manager, you were not a player, of course. You don't know the way we respect each other, even when sometimes it looks as though in some moments we don't."
He added: "Football people don't have short memories and I don't have a short memory.
"I know what it means: (Wenger won) three Premier League titles, seven FA Cups, and not just that. What he did in Japan, in France. What he brought to the French football.
"What he gave to Arsenal even in the period without Premier Leagues, all the transition of the club from (Highbury) stadium to (Emirates) stadium, everything he did. We know what he did. If he's happy with the decision, I'm really happy and I hope he doesn't retire from football."
Meanwhile Mourinho insisted Friday he had no qualms playing Tottenham at Wembley, even though the national stadium has been Spurs' temporary home this season while they wait for a successor ground to White Hart Lane to be built.
He cited his Inter Milan side's 2010 Coppa Italia triumph against Roma at their opponents' Stadio Olimpico home and his Real Madrid team's 2013 loss at their Bernabeu ground to Atletico Madrid in the Copa del Rey final as proof that the venue made little difference to the outcome.
"I don't think it's an advantage at all," Mourinho said.
"I played one cup final in Roma's stadium against Roma and I won. I played a cup final in my stadium and I lost," he added.