By Olasunkanmi Akoni
For several years, residents of riverine areas in Ojo, a Lagos suburb, had lived in constant fear over waterways' navigation in the area.
Water transportation system, their major means of moving in and out of their vicinity, was fast becoming a threat. The shallowness of the water had made it practically impossible for boat operators in the area to move smoothly. In some instances, the result is fatal.
A resident, Hazeez Sulaimon, said the situation was one of their worst nightmares. "It was a difficult period for us. Boat operators in the area became apprehensive to ply the waters for fear of having their boats capsized."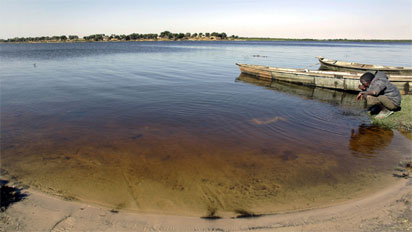 One of the boat operators, Dada Sogbesan, said their economic activities, especially fishing, were hampered by the shallowness of the water while their boat propellers, engines and gear box were constantly damaged.
"We have been complaining and begging the government to come and help us to dredge the water so that our boats can move freely. It is on water that we survive because that is our means of transportation and also survival for our women because most of them are into fishing."
Attempts by the government to intervene in the past did not yield much result as residents complained that the work done by the previous contractor did little to ameliorate their challenge.
"We thank Governor Akinwunmi Ambode for this great job, and also choosing the right men to do the job. In all honesty, this dredging company has done wonderfully well with this capital project. We already lost hope, especially when you carefully consider the volume of wasted efforts from past administrations which never translated into the kind of joy and comfort we now experience when we travel on the water," an excited resident, Yusuf Aregbe, said.
But the state government has listened to the plight of the residents. In September 2017, the channelisation of the Ebute-Ojo jetty to Marina began, covering two kilometres and a depth of about six metres of dredging.
The Ebute-Ojo jetty is one of the four commercial ferry routes out of the 30 already identified as part of activities to scale up water transportation and give a quantum leap to tourism and economic growth in the state.
According to the government, the four routes currently being channelised are 10km Ebute Ojo to Marina, 7km Bayeku to Ajah, 16km Ijede to Marina and 6km Ijede to Badore and would be followed with another two, while work on the remaining 24 would be implemented in phases within the next four years. Managing Director of the State's Waterways Authority, LASWA, Mr. Damilola Emmanuel, said the dredging exercise and channelisation was part of the ground plan to escalate water transportation and explore tourism potential of the inland waterways.
He said: "Essentially, what we are seeing is the ongoing channelisation which is creating road on water. Our intention is to make any boat or ferry sail freely on our waterways so they don't run into the issue of being grounded.
"These routes being channelised are part of the 30 routes already identified by the state government. We are laying the ground work to make things easy for the ferries to travel safely. We are doing this to demonstrate our commitment to water transportation. Through this, we want tourists who travel to our state to be safe while travelling on our waterways."
The government's intervention has not gone unnoticed as normalcy has returned to the communities including Abule Oshun, Ijegun and Apapa riverine communities.
According to Sulaimon, "We cannot thank government enough. They have brought joy to our hearts – residents and boat operators.  Now we can move on boat any time of the day without any fear.
"We can now leave by 4am or 5am. Before now, we had to wait for daylight before we can go out. Our fishermen are happy, business is doing better."
But the residents are hopeful that the state government will stretch the project to neighbouring communities including Ojo-Egbeda, Etegbin, Erewe-Osolu Kingdom and Iyagbin, a development they say if carried out, will give their communities a new lease of life.
"We thank Governor Ambode for this intervention. Like Oliver Twist, we are confident that the governor will also help us to dredge and channelise some other areas that will further open up the area and help our business to grow," Olumide Buraimoh, said with excitement.