By Johnbosco Agbakwuru
ABUJA– THE Federal Tripartite Committee on the new National Minimum Wage will commence public hearing across the country from 23rd April, 2018, in all the six geopolitical zones of the country.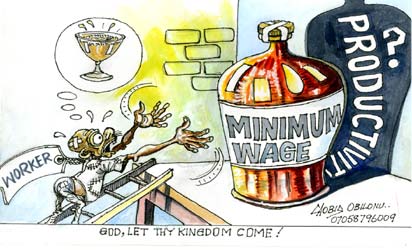 National President of Nigeria Labour Congress, NLC, Mr. Ayuba Wabba, disclosed this while briefing newsmen at the end of the Central Working meeting on Wednesday in Abuja.
Wabba said that the public hearing which would also take place in Lagos and Abuja would consider memoranda from organised Labour, governors and employers of Labour especially as the organised Labour was said to have presented a new demand of over N66,500 to government.
Wabba while confirming the upward review of the demand of organised Labour, however, refused to confirm the new figure presented to the tripartite committee for consideration.
He said, "I will not be drawn to mention figures because it is not relevant at the moment as organised Labour considered the current realities in the country.
"As certain variables and current inflation in the country has made us to make an upward review of the demand.
"The new submission from Labour is not different from the initial submission. We made a demand almost two years ago and that demand was the beginning of the process.
"So , the demand of Labour was based on the agreement we had on the five-year circle which we believe was due and also considering the level off inflation, we made a demand of N56,000."
He said the tripartite committee after its constitution by President Muhammad Buhari, requested state governors and employers, private sector and organised labour to resubmit their memorandum to the committee for discussion to commence.
The NLC President said in furtherance to the request states, federal government, NECA and Labour have submitted their memos.
He said, "But what we did was to look at the dynamics of the times because the discussion will be evidence based.
"So, we undertook a study and made a submission. This is the logic and not that we have submitted a new position.
"It was the same memo that we submitted, but what we did was to look at the indices because a lot have changed between 2015 and 2018.
"So that cannot be regarded as a change of position because the process of arriving at a minimum wage in line with convention 121 is evidence based.
"Everybody submitting memo or document will have to back it up with logic and not just quote figures from the air."
He, however said that every variable that was supposed to be considered for a discussion on the new minimum wage has been considered.
According to him, "Clearly, what I want to inform you about is that we are committed to what we have."
He added that the next Tripatite Committee meeting would be held on April 17, to discuss procedure for the public hearing.