By Evelyn Usman
It was a bleak Easter for residents of Block 105, Low Cost Housing Estate, popularly called Jakande Estate, in Oke-Afa, Isolo area of Lagos, following the discovery of the lifeless body of a tenant, dangling from a ceiling fan in one of the flats.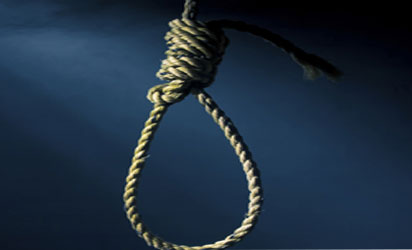 It was the body of one Tubosun, a 48-year-old man, said to have been repatriated twice from the United States of America and a European country.
Late Tubosun, who was described as an introvert, was last seen Wednesday, in the pair of Jeans trousers, which he used to hang himself, and a cream shirt.
Vanguard gathered that he had made attempt to commit suicide on two occasions but was prevented by family members.
The cause for the suicidal act was attributed to his inability to get a job since he was repatriated.
Vanguard learned that his father owned one of the flats in the two-storey building, where members of his family occupied until he decided to move to his home town in Ijebu-Ode, Ogun State.
However, before relocating, his father was said to have told his children to vacate the flat, as he intended to lease it out.
But when other children left, Tobosun, as gathered, remained there, apparently because he had no money to rent another apartment.
Residents were jolted from sleep in the early hours of Saturday, following bangs on their doors and a shout for help from one of the deceased's siblings identified as Gbenga.
Neighbour's story
A resident, Morakiyo Ajibade, told Vanguard that "when we heard the bang, we ignored it at first, thinking Gbenga was drunk.
"But we later heard him shouting that his brother has hung himself. At that point, some residents rushed out.
"I was among those who went to the flat to ascertain what was actually wrong. To my surprise, I saw Tubosun dangling from the ceiling fan.
"He used a pair of Jeans to tie his neck to the ceiling fan. He used jerry-cans to climb and apparently used his leg to push them away after he tied his neck.
"On closer observation, it was discovered that he could have hung himself few days before he was found. This was because the body had begun to swell, with flies perching on it.
"His younger brother, Gbenga, does not live in the estate. Some people said he came to visit some friends and stayed late.
"After several hours of waiting for motorcycle to get him out of the estate, he decided to go and sleep in the flat until the next day, only to find his brother dangling from the fan."
Another eyewitness
Another resident, Gboyega Busari, said: "Tubosun was an easygoing person. He had no friend and hardly spoke with anyone. He had travelled out of the country twice, but was deported.
"It was after the second deportation that he recoiled into his shell.
"A man, who forced himself into a conversation with him, said he lamented that at 48, he was not married, had no child or even a job to keep body and soul going."
Vanguard gathered that his body was later removed by his relatives and taken to Ogun State, where he was buried.
As at Saturday evening, four flats in the block were under lock and key, with the whereabouts of the occupants unknown.