…as The Niche Newspaper celebrates 4th anniversary
By Gabriel Olawale
THE lawmaker representing Bayelsa East senatorial district, Senator Ben Murray-Bruce, yesterday warned those who were behind the theft of the Mace at the Senate to forget their hidden agenda of influencing change in Senate leadership.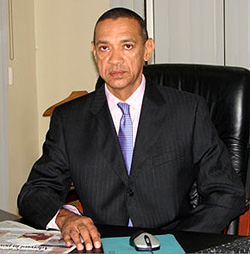 Murray-Bruce who spoke on behalf of Senate President, Bukola Saraki at The Niche Newspaper 4th Anniversary lecture in Lagos, said it would be honourary for those who masterminded such evil act to follow the path of democracy.
According to him, "what happened was a disgrace and does not make any sense. Looking at it critically, they were working for a change in Senate leadership and left what they were supposed to do but engaged in undemocratic act.
"If you want to impeach the Senate President for instance, all you need to do is to put it into vote and majority will have their way instead of stealing the mace".
Murray-Bruce added that there was a clear evidence of conspiracy in the whole scenario saying, "come to think of it, behind us is where President lives, so to access and escape through the back where President lives considering the presence of security gives room for many questions that need answers.
"As far as Senate President Bukola Saraki is concerned, he is a good man, there will be no regime change, they are only wasting their time".
Murray-Bruce however commended the media for the active role they played by informing the whole world.  "Those perpetrators thought we are in the era of 1945 to 1960 when there was only NTA and FRCN where they could decide to break news four days later. With modern day media, information dissemination is immediate."
Speaking on the theme, "Development Reporting and Hysteria Journalism in Nigeria", Former Deputy Governor, Central Bank of Nigeria and Presidential aspirant, Prof. Kingsley Moghalu said that the tradition of investigative journalism was dying slowly as news became commercialized. He pointed out that the only way developmental journalism could still be practiced in a society like Nigeria was through investigative journalism, "but sadly we do not have enough of this.
"There is so much that is wrong with our country today and vibrant investigative journalism can help to change what is wrong in our country.
In her own contribution, Professor of French Language and Applied Linguistics, Obafemi Awolowo University and former Presidential Candidate, Prof. Remi Sonaiya urged media to avail Nigerians with all the available options as 2019 election is approaching.