By Abdulwahab Abdulah
lagos—Chairman of the Nigerian Bar Association, NBA, Ikeja branch, Adesina Ogunlana, yesterday said the body was not ready to backpedal on its battle against the increase in the Land Use Charge, LUC, by the Lagos State government.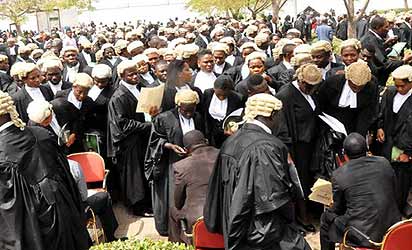 In a chat with Vanguard, Adesina said one of the options opened now to the body of lawyers was to approach the court for cover to stop its implementation, saying: "There are several lines of actions penciled down by the NBA, Ikeja to ensure the reverse of the LUC increase."
He said the state would witness more protests until the government "listens to the cry of Lagosians, because this is not what they bargained for when the current administration in the state was voted into power."
He said: "Approaching the court soon is one of our options of making government listen to the people."Quoting from a book of proverb, he said, "Eleke, the bird in one of Chinua Achebe's books said, when men have learn to shoot without aiming, he too has learnt to fly without perching. The reality on ground is that one of our options is going to court, but not the only options.
"However, we refused to be bogged into predictable moves. We have carried out three protests, and each of them are not the same. When we did the first one, which they did not want us to do, they provided police escort.
The result was the announcement of a public hearing, we wrote to the State House of Assembly, that they should carry out their public hearing in May to allow people react adequately. They only advertise two days to the hearing, which is too short. We also protested that the main legislation is not yet seen.
"The list of amended law did not reflect the 50, 25 or 10 percent cut promised by the commissioner of finance. Now what is next for us is to meet as part of our culture to reconsider our stand on the issue. The NBA Ikeja will do more protest, the time, date and the form will be kept to our chest, including court action, which is also a form of protest."