By Rosemary Onuoha and Cynthia Alo
Director General of the Debt Management Office, DMO, Ms. Patience Oniha, has said that Nigerian banks are still refusing to lend money to the real sector despite that the federal government's release of about N400 billion into the economy last December to redeem some government securities.
Speaking at the Vanguard Economic Discourse in Lagos last weekend, Oniha said that with more money available in the system and interest rates on government securities down from 18 percent to 14 percent, lending to the private sector is still non-existent.
Oniha said, "Since December last year, in terms of releasing capital into the economy, we had redeemed about N400 billion of government securities and those monies are in the system. What should bother us is, with more money available in the system, with interest rates on government securities down from 18 percent to 14 percent at most, what is constraining lending to the private sector? Is it that the banks are not willing to take the risk? We have released money and the interest rates have come down, then what is it that is constraining the flow of capital at lower rates? Rates have dropped and to the real sector that is where production will come from and I can assure you that is one of our objectives.''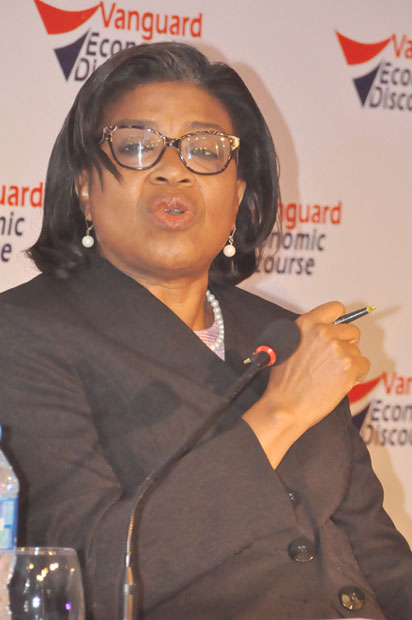 On the federal government's economic blueprint Oniha stated: ''One perspective is to achieve sustainable growth, however I agree that we are just in the process of recovering. I think a very critical element is how to diversify the economy.
''There were talks on infrastructure as well as oil and gas but I think diversifying the entire economy is important. While we add labour to the resource we need, agriculture and manufacturing are very key sectors in terms of diversifying the economy. ''Infrastructure will improve production and so on; hence we need to focus on diversifying the economy in the medium to long term. How much can we produce to consume and then export as well and I think that is where the journey is, where growth and employment would come from.''
Addressing issues of the nation's debt the DMO's boss said, ''In terms of total debt over revenue, let me be upfront, the narrative has changed as far as the Debt Management Office, DMO, and the Ministry of Finance are concerned. We are not talking of debt to GDP again, rather we are talking about how to reduce debt servicing to revenue ratio. That is the strategy, hence that old language has since shifted.
''When you aggregate total debt to revenue, permit me to clarify that all of the debts are not due in one day. So present revenues are not under threat of being wiped out because we have debt to service. We have some of them running over 40 years probably. So aggregating total debt to revenue is not a good measure of debt being sustainable.
''So the strategy is about reducing the interest expense on debt and making more funds available to the economy.''