…SEX-FOR-MARK SCANDAL IN OAU RAGES
…Tips to escaping randy teachers
By Yetunde Arebi
An audio recording detailing a female student's discussion with a purported lecturer went viral on social media. The voices on the recording were alleged to be that of a female student who scored 33 in an examination, and a male lecturer, Professor Richard Akindele, who was allegedly soliciting for sex with the student to help scale up her mark.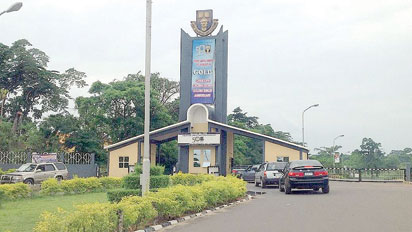 The audio recording elicited diverse reactions from people. While many people condemned the action of the lecturer, there were those who questioned the motive of the student while some even referred to it as a scam.
To set the records straight, the authorities of the Obafemi Awolowo University (OAU), Ile-Ife, where the scandal erupted, have waded into the matter. In a statement released last Wednesday, the Vice Chancellor, Professor Eyitope Ogunbodede, announced that the university had commenced the process of identifying the persons involved by setting up a committee to investigate the matter.
"Since the matter came to our notice, the university has begun the process of identifying the characters involved in this apparent breach of its regulations, the Code of Conduct for the University Community and the Anti-Sexual harassment policy, in full compliance with all applicable laws, rules regulations and procedures of the university", Eyitayo said in a statement.
According to him, the high-powered committee will investigate the allegations and submit its report within one week. He added, "Anyone found culpable will be dealt with decisively. The university will never condone such act by any staff or student".
While arguments over the audio recording rage on, one fact we may not be able to erase is that sexual harassment is rife in our society. From the work place to tertiary institutions and even secondary schools, tales of women being asked to engage in all forms of sex and sexual acts in return for favours, or even what is due to them, regale the society. But perhaps more worrisome is sexual harassment targeted at young future leaders by teachers/lecturers who the society has entrusted in their care to nurture and shape both in knowledge and character.
Besides the trauma of being abused on the part of the student, it is instructive to note that the society suffers more from a system that allots mark to students in exchange for sexual favours. This is because our tertiary institutions will not only churn out half-baked and lazy graduates, the society will suffer more as it grapples with incompetent professionals and workforce. However, we seem not to be fazed by the trend. How did we get here and what can be done to bring back the honour of our young women and men and curb sexual harassment in our tertiary institutions.
Deficient foundation
Professor Florence, Ajike Osanyin, Head, Early Childhood Education, Faculty of Education, University of Lagos, Akoka, attributes the problem to poor parenting and loss of societal values. Speaking with Sunday Vanguard on the subject, causes and elimination of sexual harassment in tertiary institutions, Osanyin opined that focus must be shifted back to the homes where these students come from rather than look for the solution on the campuses. "For most of the students, the foundation is deficient. In fact there is no foundation for self-respect and self-esteem. We have imbued in them a culture of begging for things, especially things they do not merit or work for", she said.
"We have become a nation plagued with Dependency Syndrome. Many parents have left the authorities to their children. The children control them, especially the illiterate or pseudo-illiterate parents who now have children in higher institutions. The children become their bosses because they see themselves as having superior knowledge. Parents must step up their duties to raise good children for the society".
Osayin stressed that many students are lazy and come to school unserious.
"Many of them actually lure and entice male lecturers. They go to them to offer themselves. They tell them they are available for anything, especially after they are marked down. Some come to school from their first day of admission with pre-determination that they will beg and cheat their way through school.
Also, If you see what many of these students wear to school, you will marvel. Many of them wear provocative dresses with their parents' consent. They forget that one will be addressed the way they dress.   If I am a man and I am constantly being offered such a thing, will I not go for it? If the home has done its own work properly, the children will always have those values in their hearts and will not want to derail".
Asserting that sexual harassment exists in institutions of higher learning, the professor insisted it happens only when shameless students present the opportunity to male lecturers.
"If you are hard-working, you do your work properly and on schedule, you will get good grades. After all, is it not their mates that graduate with distinctions and other good grades? Which lecturer will solicit for sex from you when you know you have done your work well? He too will not want to be caught in something he cannot defend.
It is because the students are weak and are looking for cheap marks. As they say, cheap things don't come easy. If a lecture marks your paper and you are not satisfied, you have a right to recall and it will be addressed. The students know this but they will not because they know that their hands are not clean. They know that they do not merit anything better, so they are prepared to do anything," she stressed.
Poor enforcement of regulations
According to Sunday Vanguard's findings, universities' authorities are usually not unaware of most of the atrocities committed by victims and their predators. Most of the institutions have put in place rules and regulations to guide the conduct of students and lectures on campus. Despite the fact that law against provocative dressing exists in almost all universities, many students still come to school in ill-fitting clothes. University of Lagos has put a permanent ban on strapless or sleeveless clothes and spaghetti tops, mini-clothes as well as tight-fitting and transparent clothes. Yet, students are often seen parading in these clothes and often unchallenged. A student, who spoke on the basis of anonymity, said these clothes are allowed once a student stays away from the Senate building and other administrative blocks.
Discussing with a lecturer at the University of Lagos, who requested not to be identified, she informed Sunday Vanguard of some other measures that the university has put in place to protect undergraduate students from harassment and harm but which are not strictly being adhered to. For instance, for undergraduate students, lectures officially end at 6. 00pm and there are no weekend lectures, yet you are not unlikely to find some lecturers and students working outside these schedules without concrete reasons for doing so. During the orientation week for fresh students, many of these rules and provisions are made public but rather than the students use official platforms to address their complaints they resolve to do things their way.
Harassment cuts across board
The female lecturer debunked the idea that good students never get harassed, saying that harassment cuts across board. She argued, "A good student can also be harassed; it is just that they have a better case because they can defend themselves with the quality of their works. Also, it is difficult for lecturers not to know a good student, so, it is easier for such students to escape". She, however, pointed out that in recent years, more than ever before, it appears that girls do not want to work hard at anything, and noted that this is a dangerous trend which is likely to affect all the hard work that women have done over the years, to come this far. "Soon, men won't take us seriously anymore," she warned.
On ways a female student can prevent sexual harassment by lecturers, like Osanyin, she also acknowledged the contribution of the home in raising confident, hard-working young women with good values. She reminded that even the holy books advise parents on the need to imbibe good morals.
The lecturer insisted that there is no short cut to hard-work, adding that getting good grades remains the first step to achieving success and staying out of trouble. She revealed that in counselling her female students, she insists that the code of silence must be broken. "What this means is that they must always let someone else know about it when faced with such a situation. If a male lecturer asks you to meet him anywhere, let others know, gather evidence and witnesses that will corroborate your story, should you come out looking dishevelled".
On the issue of lecturers and school authorities ganging-up against victims of harassment, our source revealed that this is also possible because of the society we find ourselves in. The need to protect the name of the institution may arise especially where the female has compounded her case too, making it easy for her to become a victim all over again.
"Male lecturers may take sides with their colleague not necessarily because they are also into the same thing but simply because it is a male dominated society and it is usually a case of 'he said'",   she stated, insisting that the first step is for the girl to do a good job first. "A paper can be recalled and given to another lecturer to mark. In fact, it can still be taken higher if they suspect complicity".
Our source however called on universities' authorities to always do a thorough investigation whenever such cases come up. "Where a male lecturer is found guilty, the law must take its course. It is only that way that others like him will be deterred from doing similar things. We can even go further, these men are married with their own families, let's talk to their wives and children about how they feel. Go to their places of worship, their clubs; talk to the members. The Bible says there is no hiding place for the wicked. These matters must not be treated with kid gloves if we are serious about stopping sexual harassment in our institutions of higher learning", she concluded.