By Ishola Balogun
Over 500,000 daily commuters on the Lagos Bus Rapid Transit (BRT) system can now board buses using a contact-less card payment system.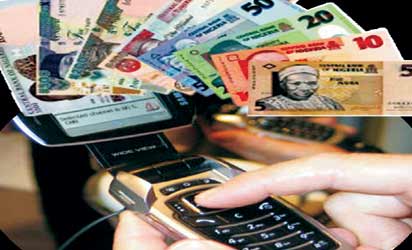 The system allows commuters who ride on BRT buses to make payments via their Lagos Connect contactless cards powered by Farepay that have either been pre-loaded or linked to a funded bank account.
Powered by Lagos State, LAMATA, Primero Transport Limited and Sterling Bank Plc, the enhanced electronic payment system was launched Thursday at the Sterling Bank, House, Marina, Lagos in partnership with leading global payment and technology companies – Mikroelektronica, MasterCard, E-Purse Systems, Monet Plus, NIBSS, Epay-plus and SecureID in Lagos.
The Europay MasterCard and Visa (EMV) compliant contactless payment system was designed to speed up commuting time by making payment easier and faster because it empowers commuters to just tap their cards on a console to board a BRT bus. It eliminates the high turnaround time associated with cash-based ticket purchases.
The launch of the contactless card puts Lagos ahead of some mega cities including New York in terms of implementation. It will be recalled that Governor Ambode launched Lagos connect card last November and this enhancement will however be usable on mass transit systems anywhere in the world.
Abubakar Suleiman, Managing Director/Chief Executive Officer, Sterling Bank said the bank intended to achieve its primary role of financial intermediation through intervention in sectors that will create jobs and bring about economic growth for the country. He identified such sectors as health, education, agriculture, renewable energy and transport.
Abubakar stated that the bank was proud to collaborate with Lagos State, LAMATA, Primero, E-Purse Systems and MasterCard to launch a multimodal contactless payment card for use on mass transit buses, ferries and trains in the Lagos metropolis.
Chief Demola Seriki, Chairman, Primero Transport Limited, described the launch of the enhanced Lagos Connect EMV compliant contactless payment system powered by Farepay as symbolic. "We are delighted to unveil the enhanced Lagos Connect EMV compliant contactless payment system powered by Farepay. It is indicative of efforts to eliminate the inefficiencies associated with public transportation in Lagos. A lot of work is being put into transforming public transportation into a world class and sustainable industry which brings comfort to commuters and creates economic and social opportunities.
"The BRT system was initiated by the Lagos State Government as part of the strategies to modernise the public transport system in Lagos to ensure it compares with what obtains in other major cities around the world. What we are witnessing today is a major stride towards providing efficient service that will encourage patronage of the Bus Rapid Transit by middle class commuters thereby reducing the number of private vehicles on our roads."
On her part, Omokehinde Adebanjo, Vice President and Area Business Head, West Africa, Mastercard said, "Technology has the potential to shape the way Africans live, and the importance of removing cash from key sectors remains a critical focus for Lagos State and the Federal Government of Nigeria.
The contactless solution has the potential of not only solving challenges faced by other channels of transport, but it can also be easily implemented in sectors such as retail and government services. This is an important step to creating a smarter Lagos, and a Nigeria that is less dependent on cash."
Subscribe for latest Videos