*Says: 'I am collaborating with three female singers to remix my hit songs'
Mike Okri, one  of Nigeria's finest musicians who dominated the airwaves in the 80s is a legend any day. He left the shores of this country when the ovation was loudest, and after sojourning in the United States for about 10 years, the 'Omoge' crooner returned home in 2011. Since then, he has been working underground with some female singers to remake his three evergreen songs, "Omoge", "Time Na Money" and 'Rhumba Dance.' In this engaging interview, the veteran singer whose twin boys are also taking after him in music reveals that his journey to the United States was spiritual, adding that his coming back  home was not only to reclaim his place in the music industry but also, to explore the business aspect of showbiz.
By BENJAMIN NJOKU & OMOTOLA CHRISTOPHER
Why did you suddenly disappear from the scene when the ovation was loudest?
I didn't have any solid reason why it happened. I feel it was just spiritual, that was what happened. At that time there were too many things happening around me and my God wanted to protect me. That was why I left for the United States. I have been on and off, watching and I can say that looking at the musical terrain in Nigeria, it's very vibrant. But there's still a lot we need to do to be able to harness the billions of naira out there.
Your fans thought you abandoned music in search of greener pasture in the US
No I didn't, I just wouldn't have been able to get follow ups in terms of albums. But I'm still very active. While I was in the US, I was not doing music. I was into writing and when I was not writing, I was doing some kind of counseling work, which means I am still very active. It's sad the way we run things here. I can list out a lot of people who have left for the United States. My coming back to Nigeria doesn't mean I'm coming back to music. The truth is that I have always been doing music even though I have not had a follow up album in the past 26 years.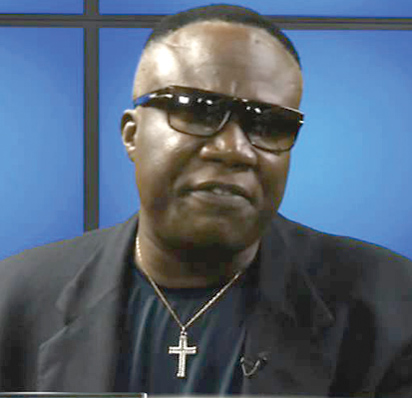 Are you planning to release one soon?
Of course, I'm already working in the studio, doing a lot of collaborations. But it will be too early to bring them all out at once. But I can assure you they are all in the pipeline. It's going to be about how Nigerian music has evolved over the years, nothing about old school or new school. It has to do with the advent of music channels such as MTV Base and others. People now know how important and wealthy the music industry is. Before now, it used to be a probability because not a lot of people believed it would flourish some day. But the reverse is the case today.
Since you returned to the country, what have you been doing?
I have been in the studio trying to put things together with the younger ones to see how we can do collaborations.
How many of them are you presently working with ?
Fortunately, I am involved with only the female singers; They are about three, and we are trying to remix three of my most popular songs, "Omoge", "Time na Money" and "Rhumba Dance."
Will they be out before the end of this year?
That I can't say, we are putting all our efforts into it. We are also working with our partners, as you know it's not easy to get a good video out there. It's not like before where you could just drop an album. We are going to be releasing them in singles which will happen from this year through next year. At the moment, we have not decided which of the songs will be dropped first. That's a decision that's going to be made by my co-partners in the music.
Did you feel the pains of fans that missed your music when you travelled to the United States?
I will say yes. I missed them. I felt the pain of those who were not happy that Mike Okiri was not around to give them what they were used to and all that. However, I am making progress to ensure that I make it up to them.
Your song, 'Omoge' was a bang, did you make money from it?
I can tell you that till today, some of us are still holding onto our past glories in respect of how much would have been the amount we could boast of if we were running an organized show business. This is because my former company would claim they never sold a record. I could say they didn't compensate me enough. But now, when we digress from that aspect, let's look at mechanical rights that were never settled. So it's still an ongoing problem, the case here is that we have a lot of work to do. I'm coming back not only as a musician but as a business man trying to find out where I lost it. Until we get rid of that element of greed, we might not have anything to offer 15-years off the road. Most of what is released today lacks depth, so, what is going to be the evergreen of their songs. They might have made the money but without depth. Until we have stakeholders taking charge of their destinies and the industry, there is no destiny.
You later delved into gospel music?
At this point that I am, I'm not shying away from gospel music. As much as I will want to sing a love song, I also want to sing a song that makes huge sense; whether romantic, love song or gospel music. It's the message that makes the difference. I have some stuff coming out that are relatively gospel. You can call it gospel music or inspirational song.
Interestingly, your twin boys are taking after you in music
I'm happy about that. They listen to me and they are doing really well. They are level headed and showing willingness to go the extra mile to prosper in all they do.
The first time you went into the studio, did you believe you would go this far?
I have always been a dreamer and a dreamer never settle for anything less than what he wants. I have never felt so defeated or quit as a result of frustration. Even Odion Iruoje, one of the prominent producers of our time turned me down twice. I didn't go into the studio as a novice. Rather I entered the studio as a back up artiste. I have been doing back up for big artistes like Onyeka Onwenu and other big acts. This assured me that whenever it got to my turn I would do massively well.