By Luminous Jannamike
ABUJA – The Management of the National Hospital Abuja has played down reports that some patients could not access needed medical services due to the on-going strike by health workers operating under the aegis of Joint Health Sector Union (JOHESU).
Speaking to Vanguard in Abuja, the National Hospital Spokesman, Dr. Tayo Haastruup, said measures were already in place to cushion the effects of manpower deficit experienced at the hospital.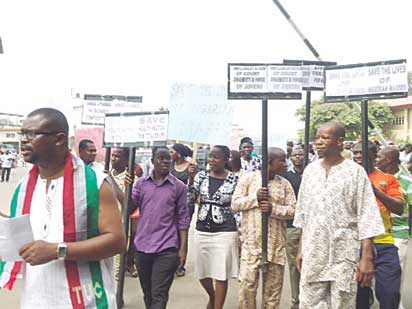 He said:  "Notwithstanding the on-going strike, the hospital management has ensured that doctors, consultants and other specialists are around at all times to attend to patients who require attention.
"We have motivated our staff members who are not on strike to make sure they get hold of the right end of their sticks and do so quite instructively and efficiently.
"But I must reiterate that doctors are trained to examine patients and recommend drugs or therapy for treatment.
"For cases that require drugs to be recommended, our doctors simply do so and the patients go to private pharmacies to purchase them. For those that require further medical tests, our doctors instruct patients to visit private laboratories for the tests and return with the results for the continuation of their treatment.
"Out-patients and those on appointment are still been attended to the fullest capacities. So, activities are pretty normal. The only aspect we have not carried on as usual is the intake of new patients. We have deliberately reduced the number of patients we place on admission daily to enable us manage the various cases without compromising on quality of care.
"Beyond that, we have every other thing under control. The public should not panic. Our services are still rendered as they should," he explained.
Similarly, the Head of a sensitive department at the Federal Staff Hospital (FSH) Jabi Abuja, who asked not to be named for fear of being attacked by the striking workers, told Vanguard that the hospital had already hired casual staff to take the places of those on strike albeit in the interim.
"We have our casual staff already filling the lacuna created by those who are on strike. The health services we provide are still been maintained. However, we have reduced the number of in-patients we are admitting.
"Excluding the reductions we have made, every other thing is going on smoothly," he said.
When our correspondent toured the family health and orthopaedic wards of the two hospitals, nothing unusual was observed among patients and their relatives. They seemed contented with the level of service they were receiving.
Meanwhile, vehicular and human traffic was heavy as usual within and outside the premises of the two hospitals.
Subscribe for latest Videos